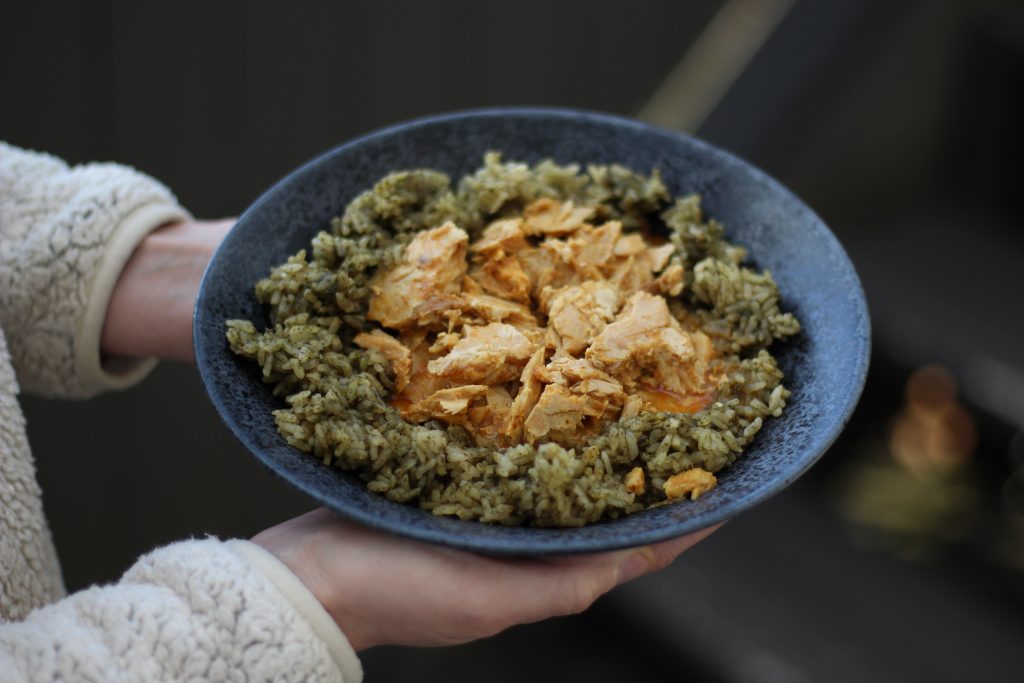 Albacore Curry with Green Rice
Recipe by SueAnna Harrison
This is a quick and easy recipe that utilizes extra greens you have on hand that need to be used right away.
Ingredients:
6 oz can Oregon's Choice Gourmet Albacore Tuna
1 TBSP curry paste (We like Thai and True brand, but any brand and color will do)
Liquid aminos (or soy sauce)
1 cup coconut milk
1 cup short grain white rice (or basmati)
2.5 cups vegetable broth
3-4 handfuls of raw leafy greens (spinach, kale, chard, anything will work!)
Directions:
First cook the green rice as explained below. Once the rice is nearly ready, make the albacore curry. Add the curry on top of the green rice and serve immediately.
For the green rice
First make Green Broth, using any surplus greens that you have on hand. We like to use a mix of spinach, kale and chard, but you can use any greens.
Blend the raw greens with vegetable broth and a pinch of salt in a blender (Vitamix works best) until you have a very smooth liquid.
Cook rice with a ratio of 1 cup rice: 2.5 cups green broth. We like to use our Instant Pot on the rice setting, but you can make it on the stove, too.
For the Albacore Curry
Saute 1 heaping TBSP of curry paste in a little bit of olive oil, add a dash of liquid aminos and 1 cup of coconut milk. Bring to a simmer and add an entire 6 oz can of Oregon's Choice Gourmet albacore tuna (and the fish oil, too!) and cook just long enough to thoroughly heat the tuna.
Serve with green rice and enjoy!