Jalapeno Garlic Albacore Skillet Breakfast Hash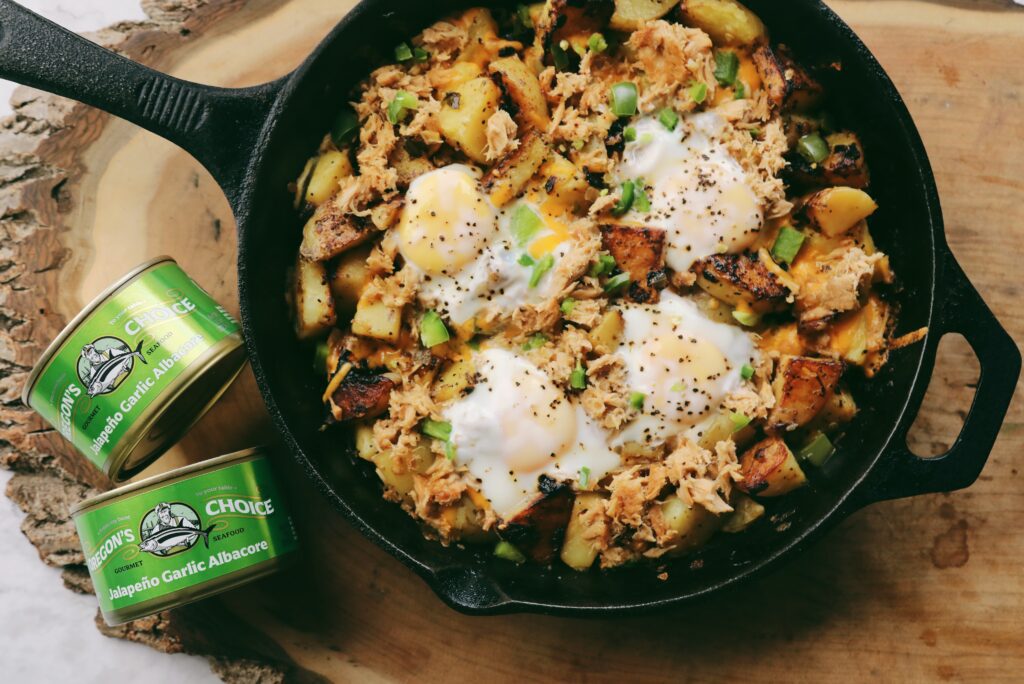 Ingredients:
2 lbs Potatoes

½ Onion

1 Small Bell Pepper

½  Jalapeno

1 Oregon's Choice Jalapeno Garlic Albacore

4 Eggs

3 Tbsp + 1Tbsp Butter

1 Tbsp Olive Oil

3 Garlic Cloves

Cheese

1 Tsp Coarse Salt and 2 Tsp Coarse Pepper
Instructions:
Begin by preparing your vegetables. Mince garlic and jalapeño. Dice bell pepper and onion. Cut potatoes into one inch chunks.

Melt 3 Tbsp  butter in a pan over medium heat.

Coat potatoes lightly with1 Tbsp  olive oil, 1 Tsp salt and 2 Tsp pepper then add to sizzling but not burnt butter along with diced onions. (Cover while cooking to steam inside of potatoes, every 5 mins stir to ensure potatoes are evenly acquiring crips and not burning for 15  min.

Add bell pepper and  jalapeño to the potato mixture. Cook for another 5  min with the lid on.

Meanwhile, using a second skillet: Melt 1 Tbsp butter over medium heat. Stir in minced garlic. Cook until fragrant or one to two minute. Drain can of jalapeño garlic albacore add to butter mixture. Cook for 2 minutes.

Add jalapeño garlic albacore to the potato mixture. Sprinkle generous amounts of cheese. If you are not using eggs, cover with a lid to allow cheese to melt. Then serve!

If using eggs, crack onto the potato mixture. Sprinkle eggs with salt and pepper. Do not disturb or mix. Cover skillet over medium heat for 5 mins for sunny side up/over easy style eggs. Then serve!