Recipe and photos by Ashley Fielden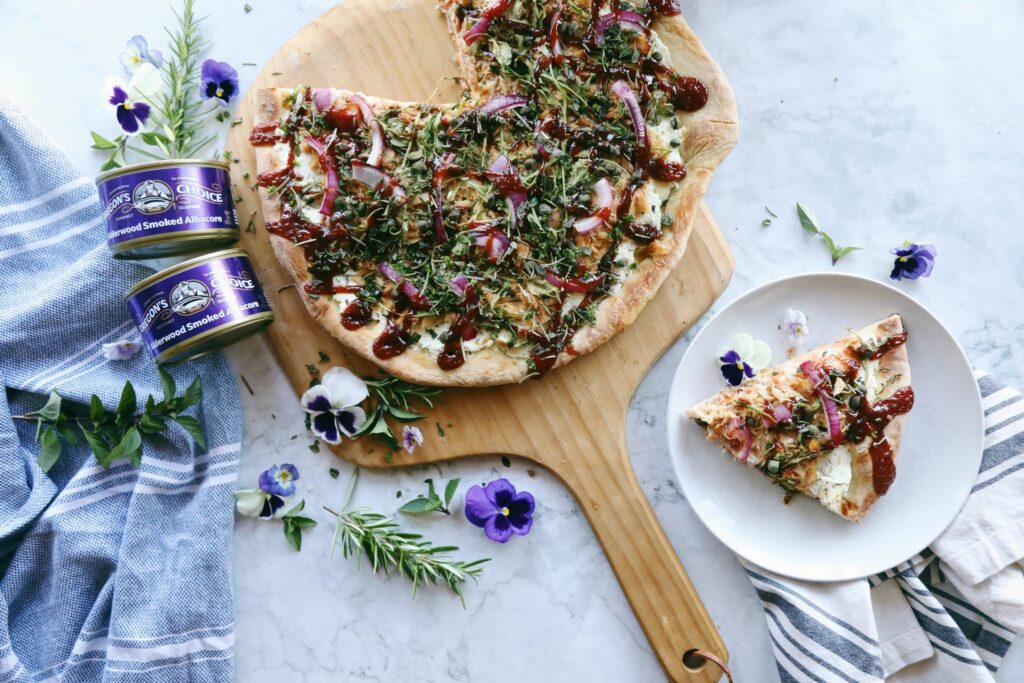 1 Can Oregon's Choice Smoked Albacore

⅓ Cup Goat Cheese (10.5 oz)

4 Tbsp Mixed Chopped Herbs (I used 1Tbsp each of fresh rosemary, curly parsley, basil and thyme.)

⅓ Cup Red Onion -Sliced

3 Tbsp Capers -Optional

2 Tsp Lemon Juice

½ Tsp Salt and ½ Tsp Pepper

1 Cup Arugula -Loosely Packed

BBQ Sauce -Drizzled (I used Sweet Baby Rays)

Pizza Dough (I used a pre-made frozen dough.)
Note: Double recipe for a family of four.
Instructions:
Form pizza dough in your preferred shape. Follow cooking instructions on packaging. I cooked mine at 500 degrees for 10 minutes.

Mix goat cheese, 2 Tbsp herbs, lemon, salt and pepper.

Spread goat cheese mix onto cooked pizza dough. Top with Oregon's Choice Smoked Albacore, arugula, sliced onions, capers. Drizzle with BBQ sauce. Warm in the oven. Add remaining herbs to pizza and serve!