Chinook Salmon Miso Corn Chowder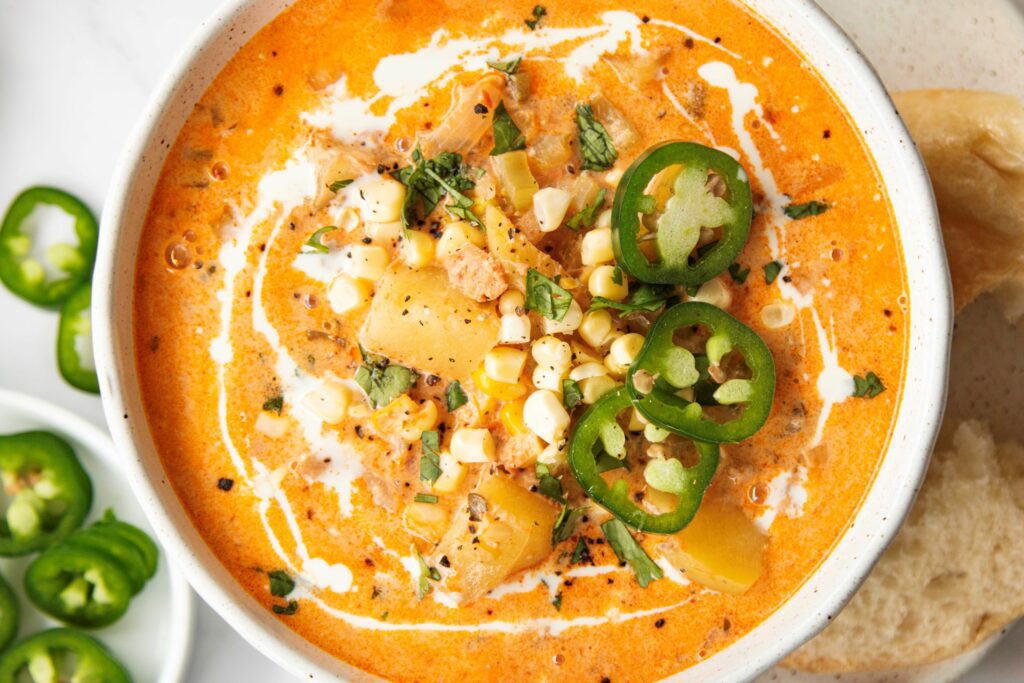 Ingredients
6 corn cobs
3 tbsp butter
1 leek, chopped
1 big shallot, finely diced
3 garlic cloves, minced
3 tbsp white miso paste
4 cups vegetable broth
3 cups baby potatoes, quartered
Salt and pepper, to taste
1 13oz can full-fat coconut milk
¼ cup basil, minced
4 green onions, minced
2 tbsp parsley, minced
1-2 cans Oregon's Choice Chinook Salmon
Sesame oil, to garnish
Corn kernels, to garnish
Sesame seeds, to garnish
Directions
Carefully slice the corn off the cobs. Save 3 of the cobs for cooking with the chowder. Optional to save ½ cup of kernels for garnish.
Heat a large pot over medium heat and add the butter. Once melted, add the leek and shallot. Saute for about 3 minutes until tender, then add the garlic and saute again for about 1 minute. Add the corn and saute for about 3-5 minutes.
Add the miso paste and saute for about 2 minutes.
Add the vegetable broth and potatoes, followed by a pinch of salt and pepper. Place the reserved corn cobs into the pot. Bring to a simmer, cover, and cook for about 20-25 minutes or until the potatoes are tender.
Remove the corn cobs from the pot and add the coconut milk. Bring to a simmer then remove from the heat.
Carefully use an immersion blender to blend the soup until thick, but should still have some corn and potato in-tact. Taste and season with salt and pepper as desired.
Mix together the basil, green onion, and parsley in a small bowl.
Ladle the soup into serving bowls and top with desired amount of salmon, the herb mixture, a drizzle of sesame oil, corn kernels, and sesame seeds to garnish.
Enjoy immediately!