Rustic Italian Albacore Sandwich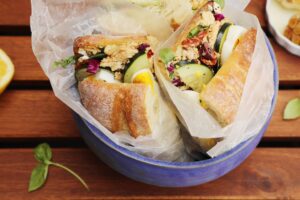 (Recipe makes 4 small side sandwiches or two large sandwiches.)
Sandwich Ingredients:
15.5 Oz Ciabatta Bread
2 Can Oregon's Choice Gourmet Albacore
1/3 Cup Pitted and Sliced Kalamata Olives (Packed tightly.)
6 Tbsp Chopped Sun-Dried Tomatoes
6oz Feta Cheese
1 Tsp Pepper
2 Tsp Red Pepper Flakes
Aioli (Recipe Below.)
1 Cucumber
4 Hard-Boiled Eggs
1 Cup Purple Cabbage
2 Cups Arugula
Aioli:
½ Cup Tahini (You can sub for mayo.)
¼ Cup Greek Yogurt
5 Tbsp Lemons
3 Tbsp Roasted Garlic Olive Oil (Re-use the olive oil from the roasted garlic recipe.)
½ Cup Fresh Basil
½ Tsp Salt
½ Tsp Pepper
1 Head of Roasted Garlic
½ Tsp Crushed Red Pepper Flakes
Directions:
Roast Garlic
Preheat oven to 425F. Prepare a piece of foil large enough to create a pocket around the garlic and olive oil mixture. Take whole head of garlic, peeling the outer skin from the garlic head, leaving the cloves intact in their casings.
Slice the top quarter inch of the garlic head off, leaving the cloves exposed. Place garlic in foil pocket. Drizzle the head of garlic with about 3 tbsp of olive oil, making sure all the exposed cloves and surfaces are coated with a light layer of oil. Close pocket. I give it a good shake to make sure oil has seeped into clove well. Place on oven safe dish in case oil seeps out during roasting. Roast in the oven for 20 minutes, or until the heads of garlic are tender, aromatic and caramelized.
Boiled Eggs:
Place eggs in a pot large enough to have the eggs in a single layer. Fill with cold water until eggs are just covered. Over medium heat, bring water to a simmer slowly to prevent cracking. Once boiling, boil for 8 minutes. Then drain water and allow eggs to cool in an ice bath.
Aioli:
In a blender or food processor combine the tahini (or mayo), roasted garlic olive oil, greek yogurt, lemon juice, garlic (removed from skin), fresh basil, crushed red pepper flakes, salt and pepper. Set the mixture aside.
Tuna Mixture:
Open and drain liquids from both Oregon's Choice Albacore cans. In a sperate bowl combine the Oregon's Choice Albacore with sundried tomatoes, feta and kalamata olives. Add 1 tsp of pepper and 2 tsp of red pepper flakes. Combined.
Assembly:
First slice ciabatta bread lengthwise and apply a generous amount of the homemade aioli to both slices. Lay a bed of arugula and purple cabbage across one slice. Then add your layer of Italian sundried tomato, feta, and kalamata olive Oregon's Choice Gourmet Albacore mixture. Top with thin slices of cucumber, then add the sliced hardboiled egg. Sprinkle with flaky salt and pepper as desired. Cut into desired size sandwiches and serve!