Recipes

Avocado Tuna Chickpea Salad
Salmon Salad: Two Ways
Tuna Ceviche
Mary's Tuna Burgers
Tuna Spaghettini Amalfitani
Albacore Tuna Cakes
Heirloom Tomato & Tuna Summer Salad
Green Smoked Salmon Pasta
Gourmet Albacore & Peach Salad
Spicy Sriracha Smoked Salmon Dip
Tuna Salad with Lentils and Bruschetta
Chili-lime & Carrot Tuna Boats
Mega Omega Chinook Salmon Salad
Pink Shrimp & Chickpea Salad
SueAnna's Sockeye Salad
Tuna Niçoise Salad
SueAnna's Shrimp Salad
Albacore Curry with Green Rice
Tangy Tuna Salad
Tuna Puttanesca
Tuna Salad Pitas with Mango Salsa
Aguacate rellano con atun 
Wild Rice Crab Cakes
Zucchini Tuna Melts
Spaghetti Squash Tuna Noodle Casserole
Spicy Keto Tuna Melt Cups
Avocado Tuna Patties
Avocado Tuna Salad
Shrimp and Smoked Oyster Chowder
Smoked Oyster Spread
Shrimp and Oyster Recipes
Crab Recipes
Canned Salmon Recipes
Canned Tuna Recipes
Smoked Salmon Spread
Shrimp Cocktail
Hot Crab Appetizer
Tuna Kale and Egg Salad
Roasted Zucchini Tuna Melts
Tuna Rigatoni with Sun-Dried Tomatoes
Salmon & Pesto Pasta Salad
Jalapeno Garlic Albacore with Mango Salsa
Beverly's Mediterranean Salad
Shrimp Pasta Salad
Crab Artichoke Fondue
Dungeness Crab Beignets
Crab Bisque
California Tuna Salad
Jake's Casserole
Tuna Salad

Thai Tuna Sliders with Broccoli Slaw
Thai Tuna Sliders with Broccoli Slaw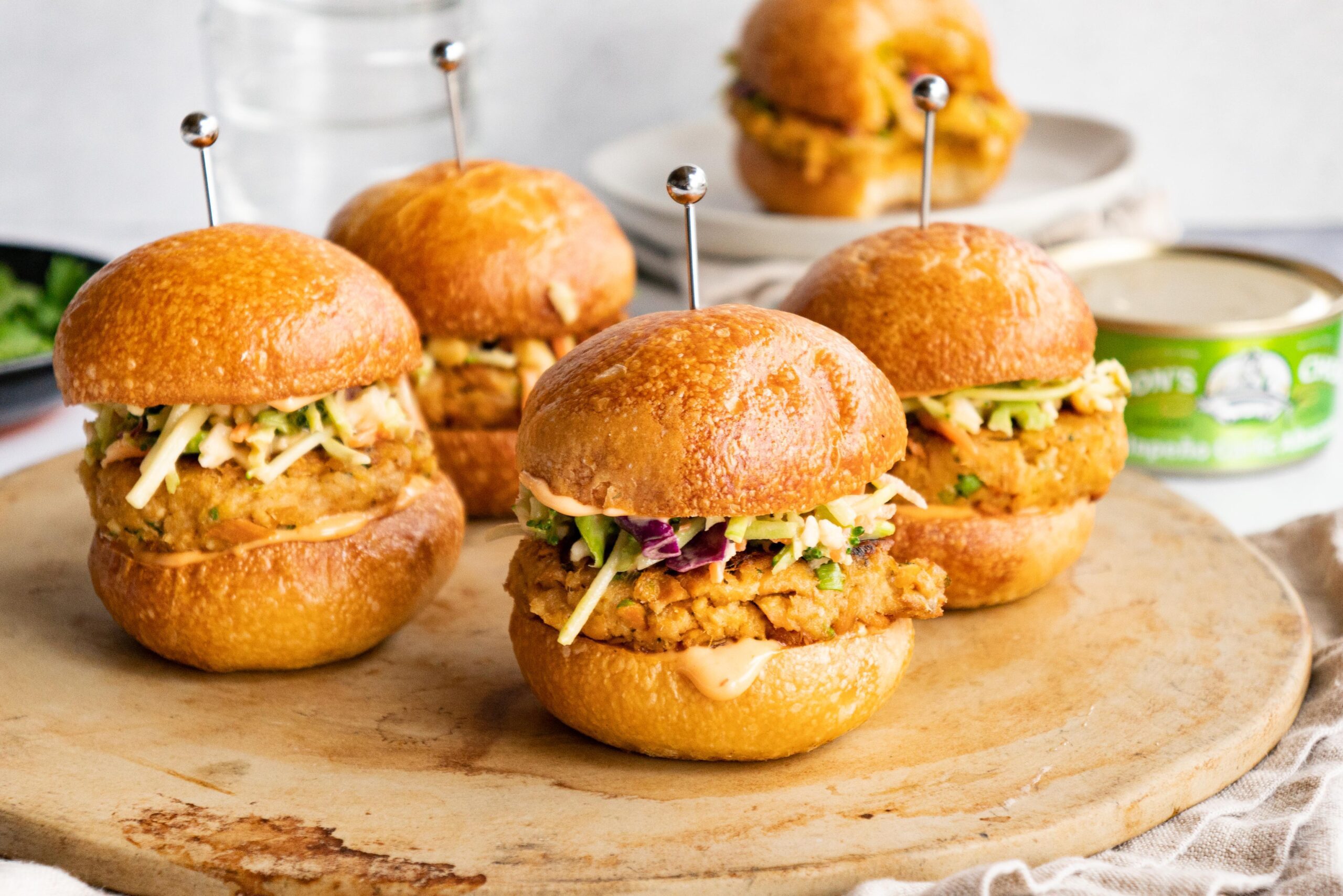 Ingredients – makes 6 sliders
2, 6 oz cans

Oregon's Choice Jalapeno Garlic Albacore Tuna

1 egg + 1 egg yolk

1/2 cup breadcrumbs

¼ cup chopped green onion

2 tbsp chopped cilantro

½ lime, juiced

1 inch knob ginger, grated

Avocado oil, to fry

6 slider buns, to serve

Mayonnaise + sriracha sauce, to serve – optional

Chopped cilantro, to serve 
Slaw
12 oz broccoli slaw

¼ cup chopped peanuts

1 tbsp mayonnaise

1 tbsp creamy peanut butter

1 tbsp honey

1 tbsp sesame oil

½ tbsp sriracha

½ lime, juiced
Directions
In a medium bowl, break up the tuna with a fork. Add the egg, breadcrumbs, green onion, cilantro, lime, and ginger. Mix well to combine the ingredients, add the egg yolk, and mix again.

Working one at a time, scoop ⅓ cup of the tuna mixture and form into a small patty. Repeat with the remaining tuna mixture (you should have 6 patties). Let chill in the fridge for 30 minutes.

Meanwhile, in a small bowl, mix together the ingredients for the slaw.

Heat a large skillet over medium heat and add a couple tablespoons of avocado oil to prepare to fry the patties. When the oil is hot, place the patties in the skillet and fry for about 3-4 minutes per side, or until golden brown and crisp.

In a small bowl, whisk together your desired amount of mayonnaise and sriracha until smooth.

Assemble the sliders with a layer of sriracha mayo, then the tuna patty. Top with the slaw and cilantro if desired.
Avocado Tuna Chickpea Salad
Avocado Tuna Chickpea Salad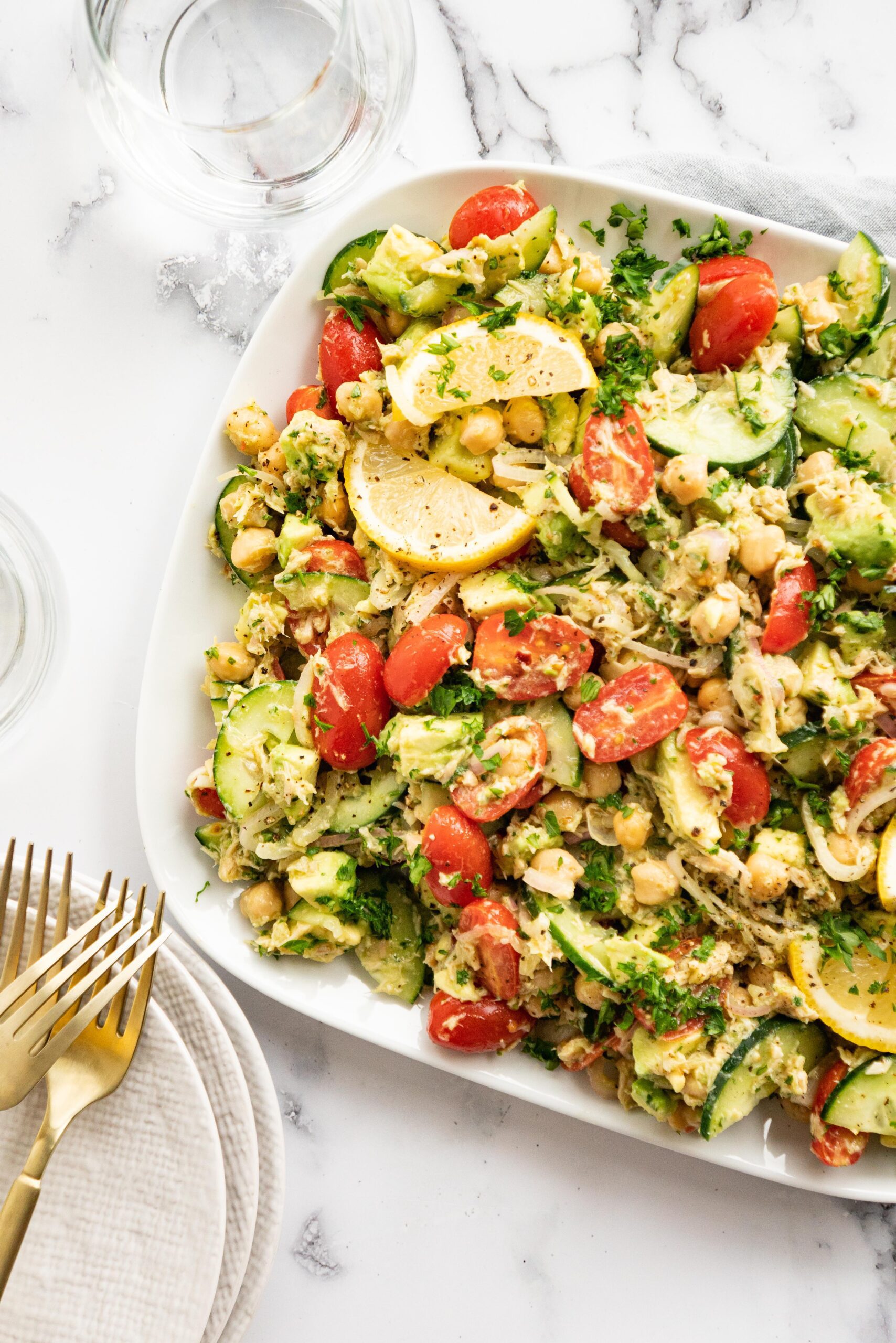 Ingredients
Dressing
1 medium shallot, thinly sliced

1 tbsp apple cider vinegar

½ lemon, juiced (about 2 tbsp)

¼ cup extra virgin olive oil

¼ cup chopped parsley

½ tbsp lemon zest

½ tbsp dijon

1 tsp minced garlic

¼ tsp red pepper flakes

Pinch of salt and pepper
Directions
Add the shallot to a small bowl and toss with lemon juice and apple cider vinegar. Let sit for 10 minutes to macerate the onion.

Add the olive oil, parsley, lemon, garlic, red pepper flakes, and salt and pepper to taste. Stir to combine, then pour over the tuna mixture in the large bowl. Toss to coat the salad ingredients with the dressing.

In a large mixing bowl, add the tuna and break up with a fork. Add the chickpeas, avocado, cherry tomatoes, and cucumber.

Pour the shallot mixture over the top of the salad and toss until combined. 

Garnish with lemon wedges and more parsley if desired.
Salmon Salad: Two Ways
Salmon Salad Two Ways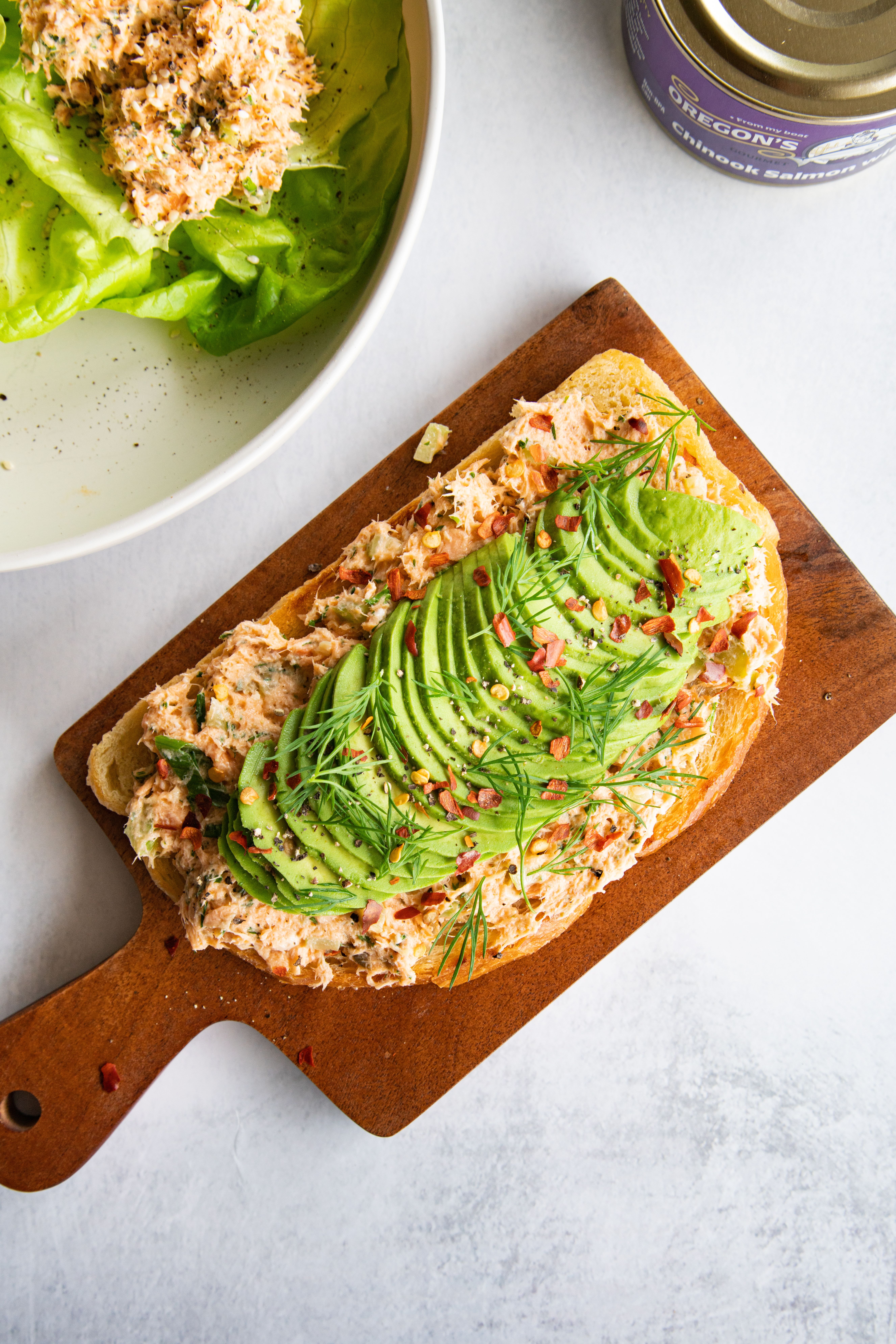 Ingredients
Salmon Salad
2 cans Oregon's Choice Chinook Salmon, drained
3 oz cream cheese, softened
3 tbsp unsweetened greek yogurt
½ cup celery, finely diced
1-2 tbsp fresh chives, minced
1-2 tbsp fresh parsley, minced
1-2 tbsp fresh dill, minced
½ tbsp capers, chopped
Salt and pepper, to taste
Lettuce Wraps
Butter Lettuce
Prepared salmon salad
Sesame seeds
Freshly cracked black pepper
Avocado Toast
Toasted sourdough
Prepared salmon salad
Ripe avocado, sliced
Dill
Freshly cracked black pepper
Red pepper flakes
Directions
Combine all salmon salad ingredients into a medium sized bowl and mix until thoroughly combined. Add 2 tbsp each of fresh herbs for more if desired.
To make the lettuce wraps, add the desired amount of prepared salmon salad onto butter lettuce. Sprinkle the lettuce wraps with sesame seeds and pepper.
To make avocado toast, spread the desired amount of prepared salmon salad over the toast. Top with sliced avocado, more dill, pepper, and red pepper flakes.
Tuna Ceviche
Tuna Ceviche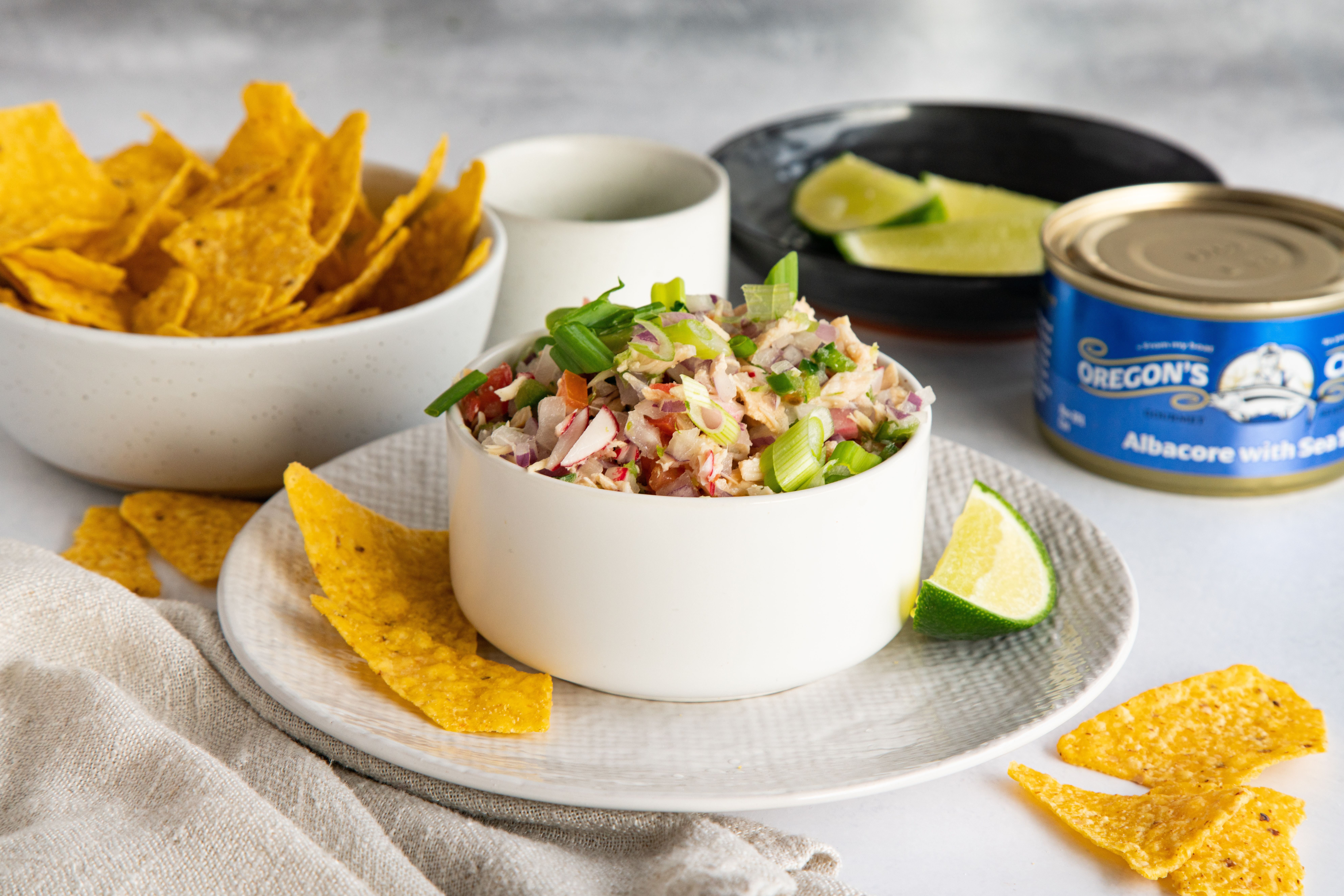 Ingredients
1, 7.5 oz can Oregon's Choice Gourmet Albacore Tuna, Lightly Salted
½ red onion, finely diced
1 plum tomato, seeded and finely diced
1 jalapeno, seeded and finely diced
3-4 radishes, finely diced
1 lime, juice and zest
Salt and pepper to taste
Green onions, chopped, to garnish
Directions
Combine all ingredients in a medium bowl and toss to combine.
Refrigerate for 15-20 minutes.
Serve with green onion on top and tortilla chips to serve!
Mary's Tuna Burgers
Mary's Tuna Burgers
by Mary King, longtime customer
1 can Oregon's Choice Gourmet Albacore tuna
2 tbsp mayonnaise
Poppyseed rolls (or any kind will do)
1/3 cup chopped celery
1/8 cup diced radishes
1 whole potato (cubed and boiled)
¼ cup diced spring onions
Swiss cheese
Mix all ingredients together. Butter the inside of each roll and spoon the tuna mixture into each.
Wrap each roll tightly in foil and bake at 500 degrees for 10 minutes.
Tuna Spaghettini Amalfitani
By Ted LaPage (& inspired by Flora Alda)

"The recipe is Spaghettini Amalfitani, from '99 Ways to Cook Pasta', by Flora Alda (mother of Alan Alda, the actor). At least, that's where it started. My version has changed some from what's in the book, for simplicity and available ingredients. So far nobody's complained."
1/2 cup olive oil
3-4 cloves garlic, chopped
1 – 2 anchovy fillets    (you can leave these out, but they give some extra flavor)
15 – 20 Kalamata olives, chopped   (or a mix of black and green, as long as they taste like real olives)
2 tsp. capers
large pinch dried thyme
pinch of red pepper flakes
1 can tuna (original recipe is for standard 6.5 ounce can – this version is for one of your 7.5 oz. cans)
spaghettini / thin spaghetti (2 – 3 servings)   (If you feel motivated, make your own. Fresh pasta is really nice for this.)
Cook the spaghetti as per usual.
Put the olive oil in a medium skillet, and add the anchovy fillet, olives, thyme, and red pepper (while the skillet is still cold). Turn the heat to medium and wait until the anchovy has melted and the olives begin to sizzle. Add the garlic and let it cook briefly – you don't want it to brown, but only turn slightly golden. Add the tuna, along with any juices from the can, and break it into small pieces. Mix well and simmer for 5 minutes or so. Add more olive oil if the mixture seems dry. [The original recipe was based on oil-packed tuna, which tells you how old it is. Water-pack tuna does become dry. Yours doesn't seem to, or not much.] Add the capers and stir for another minute or two. Turn off the heat and let stand until the pasta is cooked, then serve over the noodles.
Albacore Tuna Cakes
Recipe by Shelly Heim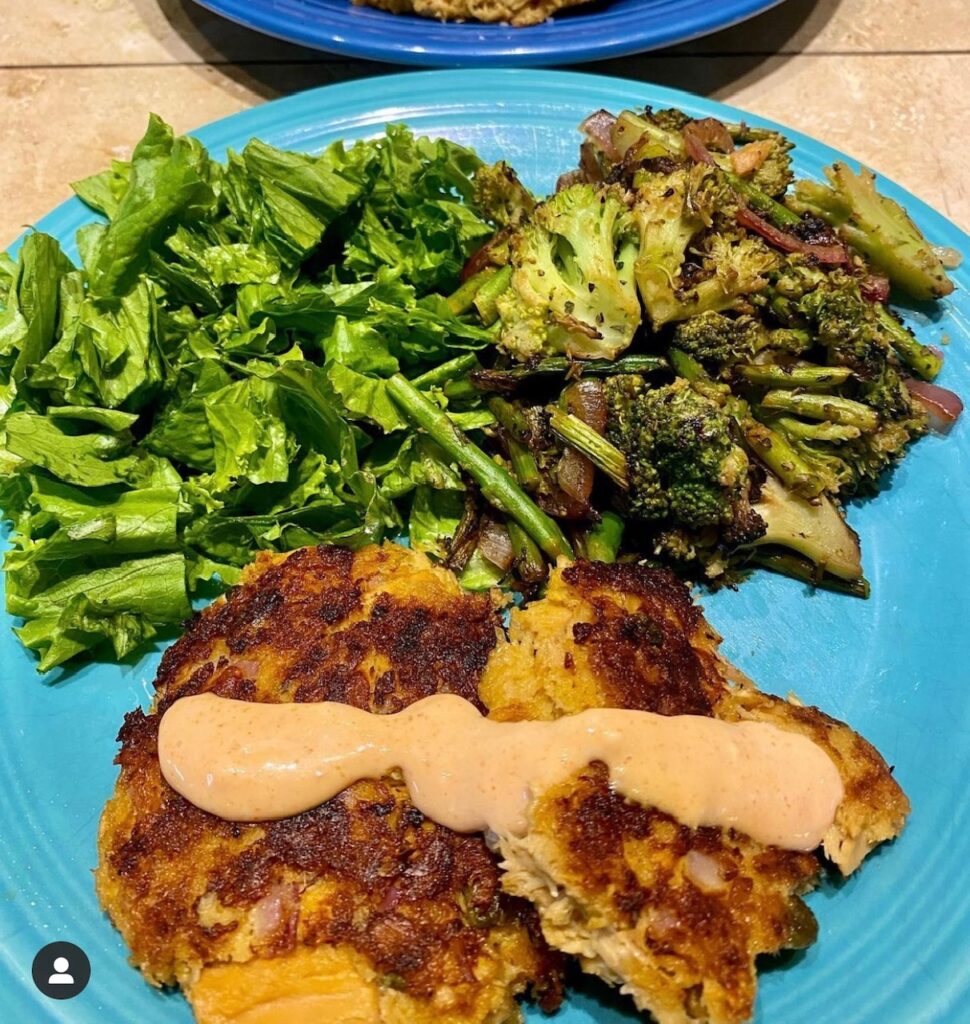 Ingredients:
2 cans Oregon's Choice Gourmet Albacore Tuna
¼ cup panko
2 eggs
¼ cup minced onion
2 tbsp. capers
1 tbsp. Dijon
1 tbsp. no soy mayo
2 tsp sriracha
Method:
Meat skillet to medium high.
Mix all ingredients but the sriracha and mayo.
Form 4 patties.
Place in hot skillet and cook for about 4 minutes on each side until golden brown.
Heirloom Tomato & Tuna Summer Salad
Heirloom Tomato & Tuna Summer Salad
What better way to utilize summer's bounty of heirloom tomatoes than pairing with tuna and mozzarella! This salad not only tastes amazing but looks spectacular, too.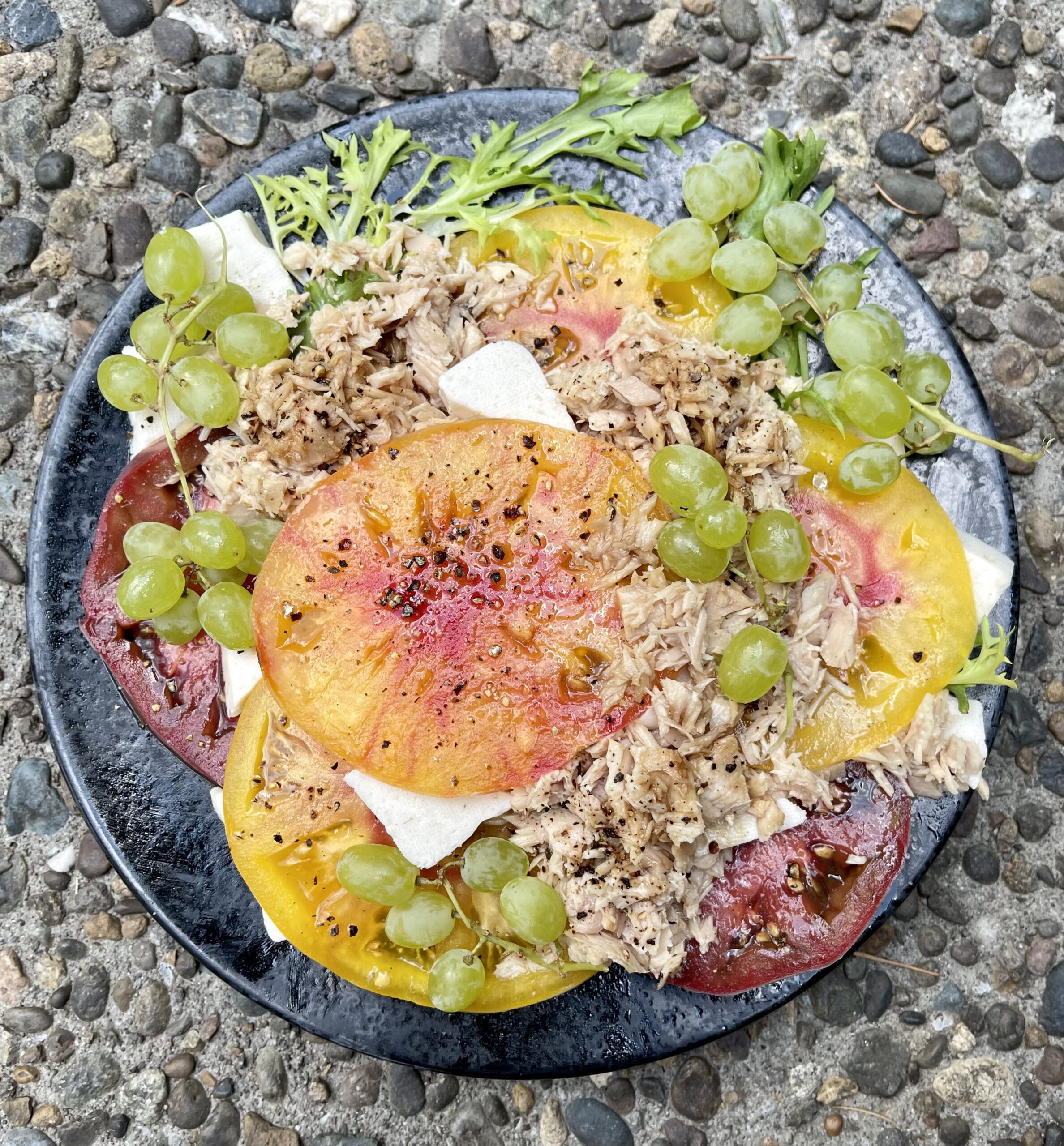 Ingredients:
2 large Heirloom tomatoes
½ can OCG Albacore tuna, flaked with a fork
¼ cup mozzarella cheese
Sea Salt & fresh cracked pepper (to taste)
True Lemon (crystallized lemon powder)
Grapes (for garnish)
Directions:
Slice the heirloom tomatoes and lay flat on a plate. Flake the tuna with a fork and place over the top of the tomatoes, sprinkle true lemon directly on top of the tuna. Add the mozzarella. Sprinkle sea salt and fresh cracked black pepper over everything, then add the grapes for garnish along the perimeter. Serve immediately. Enjoy!
Green Smoked Salmon Pasta
Green Smoked Salmon Pasta
This pasta is supercharged with the power of GREENS!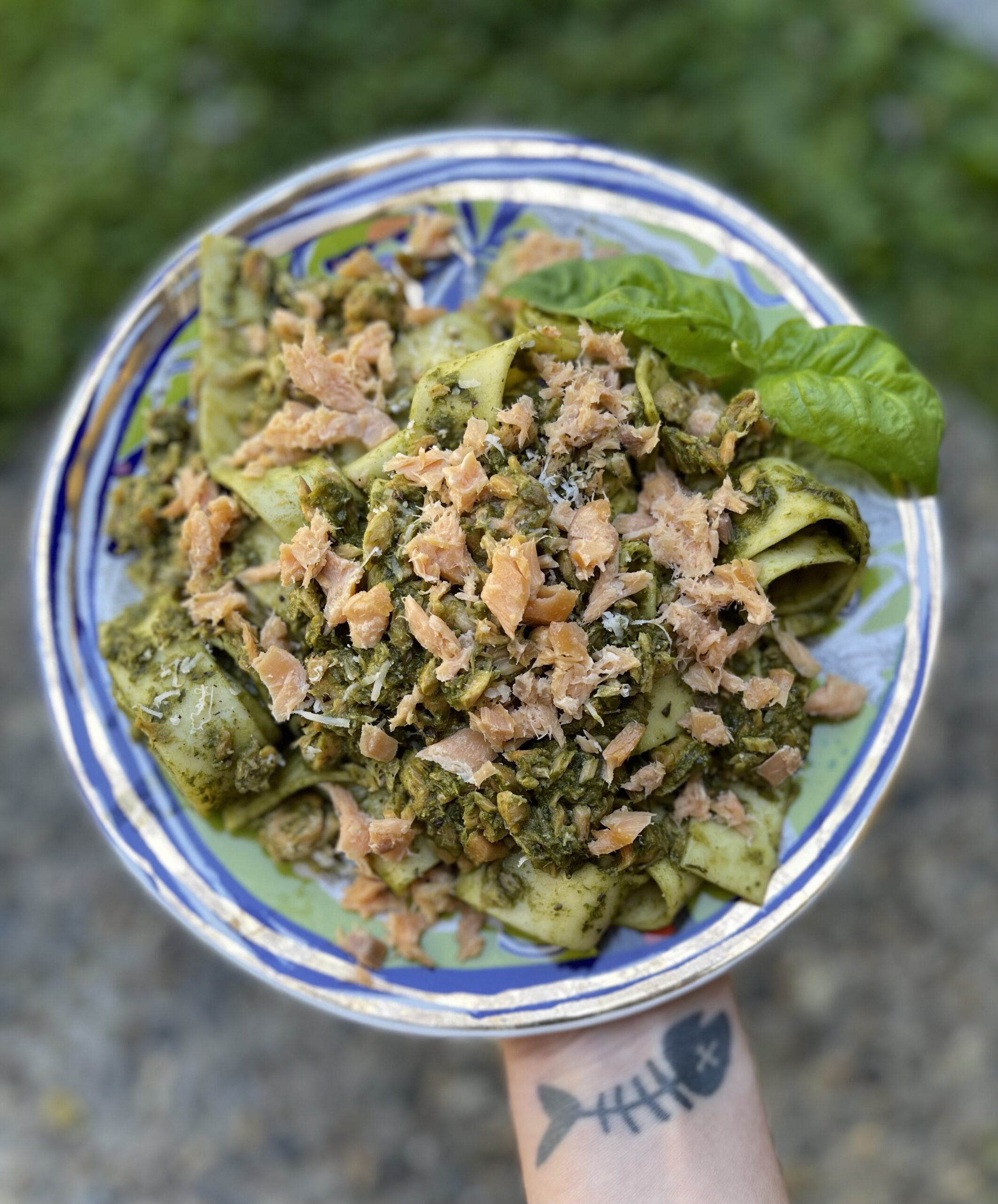 Ingredients:
½ package wide noodle pasta
½ cup pesto
2 handfuls of fresh spinach
½ can OCG Alderwood Smoked Chinook Salmon
¼ cup parmesan cheese
Directions:
Cook the pasta according to the directions on the package. While the pasta is cooking, chop the spinach and wilt over medium heat. Set aside and allow to cool.
Once the spinach has cooled, use a Cuisinart to blend the spinach until smooth, then combine it with the pesto.
Drain the pasta. In a large bowl, add the pasta, pesto and spinach mixture and mix until the noodles are thoroughly green.
Plate the pasta by using a fork to twirl the noodles into little spirals.
Flake the smoked salmon into small pieces with a fork and sprinkle over the top of the pasta. Finish with parmesan and a basil leaf for garnish. Enjoy!
Gourmet Albacore & Peach Salad
Gourmet Albacore & Peach Salad
The brightness of peaches pairs so well with tuna and the roasted sunflower seeds add a nice little crunch, but what really makes this special is the caramelized balsamic vinegar!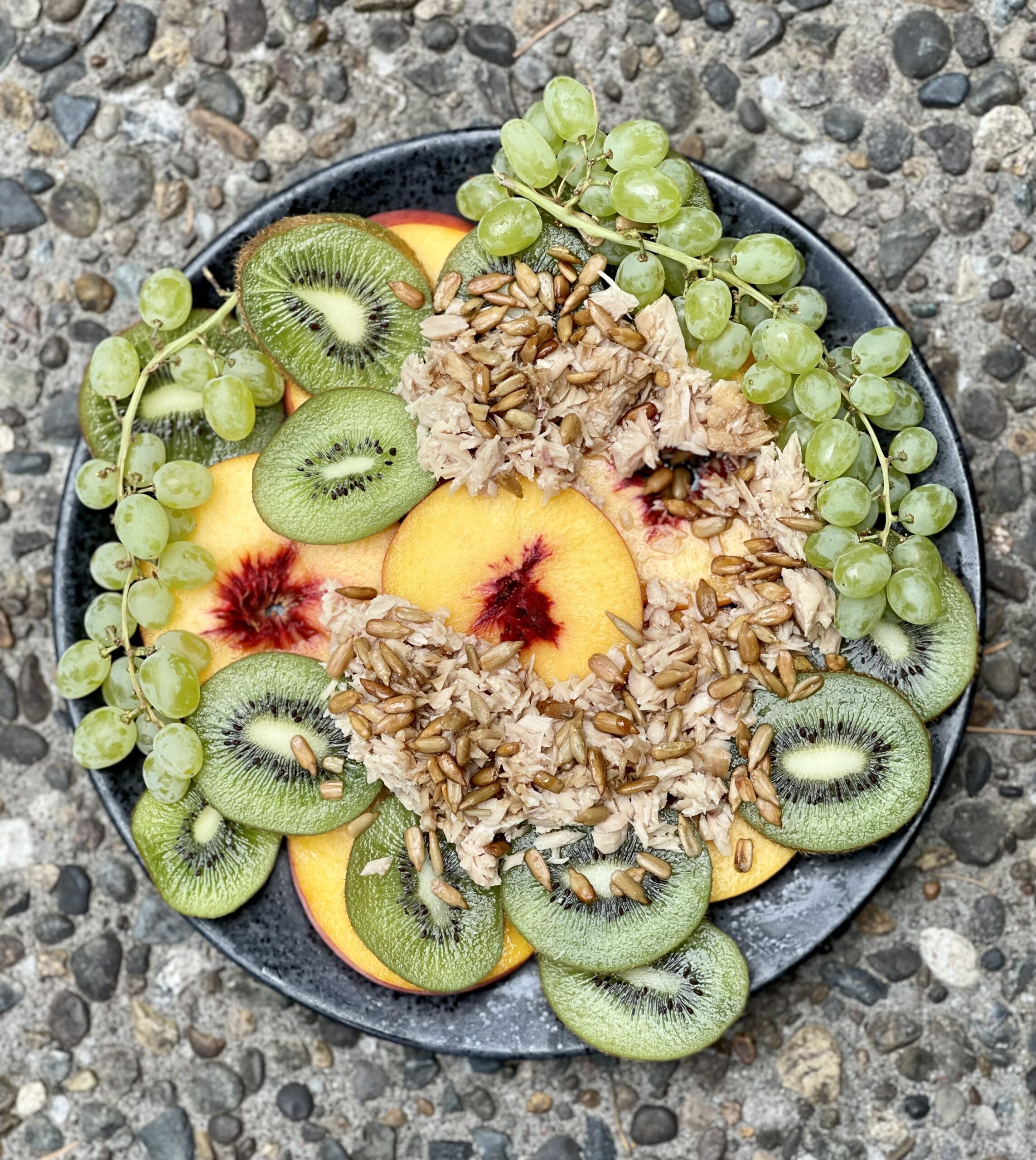 Ingredients:
2 ripe peaches, sliced
4 kiwis, sliced
A few sprigs of grapes
½ can OCG Albacore tuna, flaked with a fork
1 TBSP Roasted sunflower seeds
Caramelized balsamic vinegar
Directions:
Slice the peaches and kiwis and lay them face up on a plate. Flake the tuna with a fork and lay over the top of the peaches and kiwis, add a drizzle of caramelized balsamic vinegar to the tuna. Sprinkle on the roasted sunflower seeds and add grapes along the perimeter for garnish. Serve immediately and enjoy!