Shrimp Cacio E Pepe Tortellini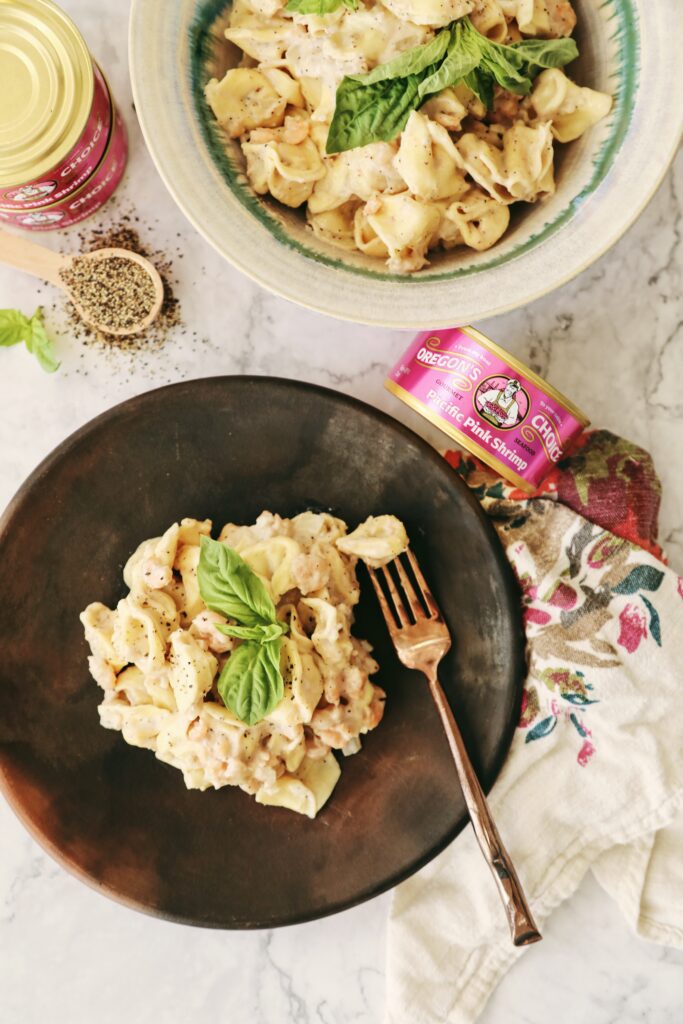 *4 Servings. Perfect for a side dish or double for main course.
1 Tbsp Olive Oil
1 Jar Cacio E Pepe Sauce or Alfredo Sauce
1 Tbsp Butter
1/4th Onions
2 Garlic Cloves
2 Cans Oregon's Choice Shrimp
Basil (To Taste.)
Black Pepper (To Taste.)
Optional: Shredded Parmesan
Note: If using alfredo sauce, follow directions for sauce, adding 1/4th cup shredded parmesan and 1 Tbsp black pepper.
Pasta: 
Bring 5 quarts of water and 1 Tbsp of olive oil to a boil.
Add 1 package of three cheese tortellini. Reduce heat and boil gently for 7 minutes.
Drain water and add sauce.
Sauce: 
Melt 1 Tbsp butter in a pan over medium-low heat.
Cook 2 minced garlic cloves and ¼ diced onion until onions are translucent. Approximately five minutes without burning garlic.
Add one jar of cacio e Pepe pasta sauce.
Add two cans of Oregon's Choice shrimp until warmed.
Garnish with a handful of fresh basil and cracked pepper to taste.