Citrus Fennel and Chinook Salmon Salad Recipe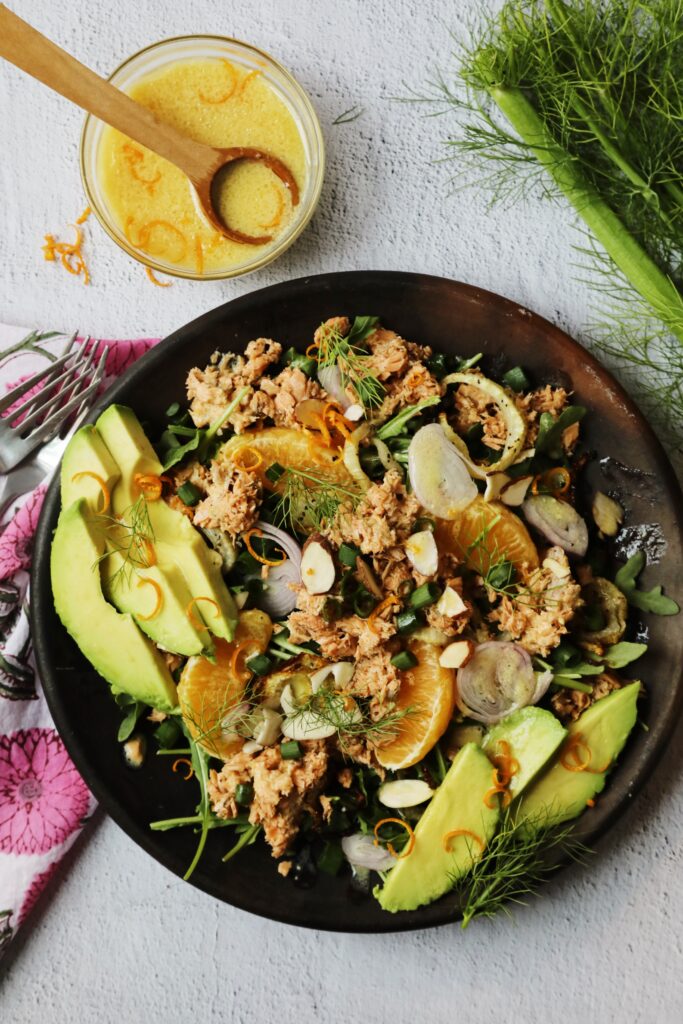 (The recipe makes two large salads or four side salads.)
Salad Ingredients:
1 Can Oregon's Choice Gourmet Chinook Salmon
1 Fennel Bulb (Roasted.)
1 Tbsp. Olive Oil
1/4 Tsp. Salt
1/4 Tsp. Black Pepper
4 Cups Arugula
1 Orange (Can be subbed for favorite citrus such as grapefruit.)
½ Shallot
2 Tbsp Green Onion
1 Avocado
2 Tbsp Almond Pieces
Optional: 1 Tsp Za'atar seasoning
Dressing:
4 Tbsp. Orange Juice
2 Tbsp. Olive Oil
1 Dijon Mustard
1/2 Tbsp. Honey
1 Tbsp White Wine Vinegar
Directions:
Preheat the oven to 425.
Open and drain liquid from a can of Oregon's Choice Gourmet Chinook Salmon. Mix with Za'atar seasoning if using and set aside.
Shave fennel into rounds and toss with olive oil, salt, and pepper. Spread evenly on a baking sheet and roast in the oven for 25 minutes or until you begin to see golden brown edges.
Meanwhile, place orange juice, olive oil, Dijon mustard, honey, and white wine vinegar into a blender or bowl to combine.
Prepare the salad toppings by peeling the orange and separating them into slices.
Slice shallots finely.
Cut green onions and avocados into desired pieces.
Arrange arugula on a plate, and top with roasted fennel, orange slices, shallots, green onion, avocado, almonds, and Oregon's Choice Chinook Salmon. Drizzle dressing over the salad and enjoy!