About Oregon's Choice Gourmet Seafoods
About Us
We are a small family owned fishing business offering the finest quality custom-canned albacore tuna, salmon and other seafood products.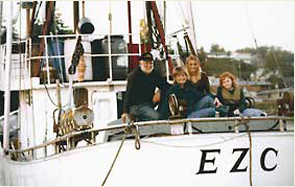 We have been providing only the best seafood for specialty markets, health food stores and families like yours across the country for over 40 years. Oregon's Choice Gourmet Albacore is unique among canned tuna because it is produced by individual fishermen. I began with my fishing vessel, F/V EZC, using only hook and line to catch albacore tuna and chinook salmon at their peak of quality. We still use this method exclusively.
We were the original fishing family to custom-can and label the catch from our boat 40+ years ago.
Faced with the El Nino of the century, a period of poor ocean conditions with less fish to catch, we committed to taking better care of what we caught and sought specialty markets.
When good ocean conditions returned, we liked the feeling of accomplishment in producing the best possible quality for select customers, so we continued our experiment. Since then, many of the production boats have followed our lead and now there are scores of fishermen-brand labels on the west coast.
Imitation is the sincerest form of flattery and we've always been open to helping fellow fishermen improve the quality of their catch.
Our motto has been: A good fisherman is one who takes good care of his catch and protects the resources of the sea for those to come.
With my wife and business partner, Ginny, and our daughters SueAnna and Samantha, our business has steadily grown exclusively by word of mouth. Our top products are the albacore tuna and chinook salmon. Our fish are cared for under the strictest guidelines and harvested sustainably.