Gourmet Albacore Tomato Bisque
Recipe and photos by Ashley Fielden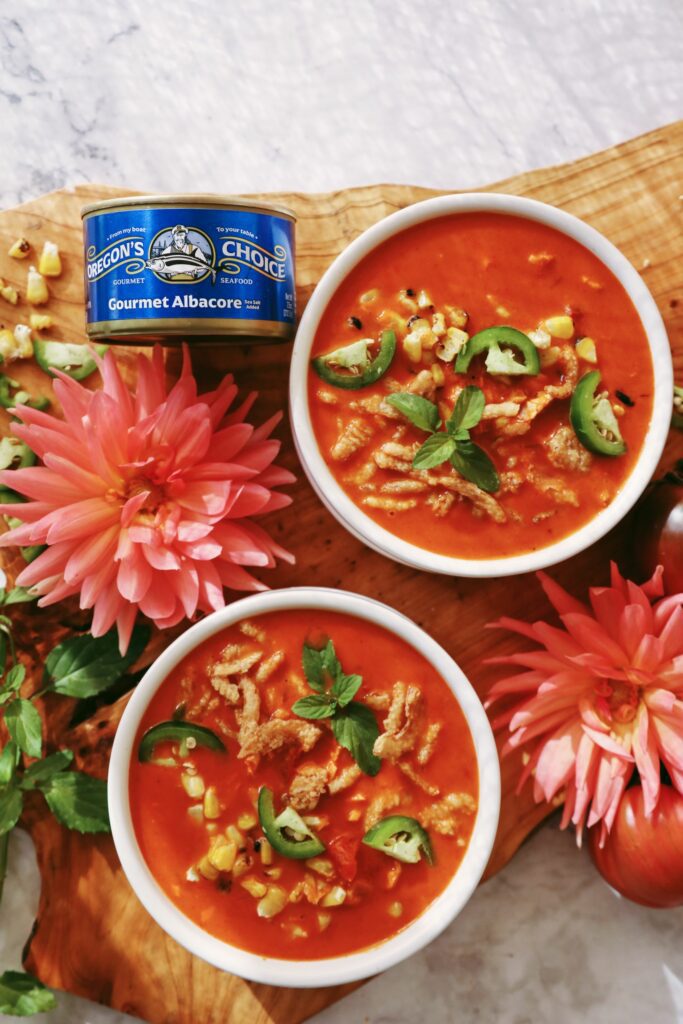 Ingredients:
3  Boxed 32oz Tomato Soup

3 Heirloom Tomatoes -Diced (Or Three Cans Diced Tomatoes.)

3 Tbsp Olive Oil

1 Small  Onion -Diced

4 Garlic Cloves -Minced

3 Cans Oregon's Choice Gourmet Albacore

1 Tbsp Smoked Paprika

1 Tsp Cumin

1 Tsp Salt and Pepper
Optional Toppings:
Fresh Basil

1 Bag Garlic Pepper Crispy Onion Topping

2 Ears of Corn -Grilled

Fresh Jalapeno  -Sliced
Instructions:
Pour tomato soup into a large pot and begin to warm over medium heat, stirring often so that the bottom does not burn.

Dice three heirloom tomatoes and add to the pot.

Meanwhile, mince garlic. Heat oil in a skillet over medium heat. Add garlic until aromatic, approximately one minute. Dice onions. Add diced onions to garlic and oil mixture. Cook for three to five minutes or until translucent.

Add all spices, garlic and onion mixture to the soup.

Bring to a boil for five minutes stirring constantly. Reduce heat to low and allow to simmer for thirty minutes.

A few minutes before serving add the entire contents of Oregon's Choice Gourmet Albacore. Note: It is easier to break apart albacore before adding it to the soup for more uniformed servings.

Serve bowls and top with grilled corn, onion straws, basil and jalapeno sliced.