Recipes

---
Rustic Italian Albacore Sandwich
Smoked Tuna Cream Cheese Board
Jalapeno Garlic Albacore Skillet Breakfast Hash 
Gourmet Albacore Tomato Bisque 
Gluten-Free Smoked Tuna Cakes with Chipotle Aioli
Jalapeno Garlic Albacore Tacos
Mediterranean Style Albacore Tuna Wraps 
Thai Tuna Sliders with Broccoli Slaw
Heirloom Tomato & Tuna Summer Salad
Gourmet Albacore & Peach Salad
Tuna Salad with Lentils and Bruschetta
Chili-lime & Carrot Tuna Boats
Albacore Curry with Green Rice
Tuna Salad Pitas with Mango Salsa
Spaghetti Squash Tuna Noodle Casserole
Tuna Rigatoni with Sun-Dried Tomatoes
Jalapeno Garlic Albacore with Mango Salsa
Ginny's Smokey Albacore Spread
Capt. Herb's Quick and Easy Foul Weather Tuna
Tuna Salad Pitas with Mango Salsa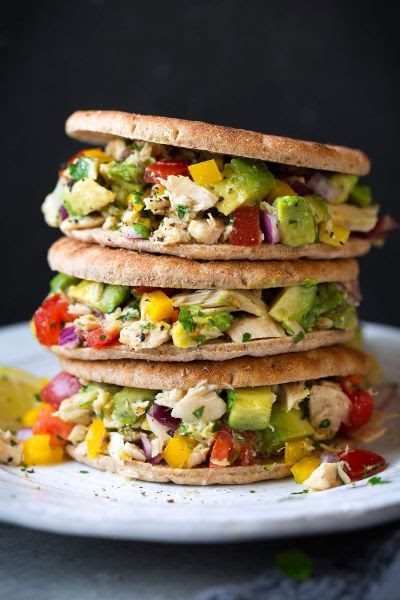 This is our favorite way to make tuna salad right now. The secret ingredient is mango salsa!
It pairs amazingly with tuna and is super easy to make.
Combine:
3 ripe mangos, diced
1 medium red bell pepper, chopped.
½ cup chopped red onion.
¼ cup packed cilantro leaves, chopped.
1 jalapeño, seeded and minced.
1 large lime, juiced (about ¼ cup lime juice)
⅛ to ¼ teaspoon salt, to taste.
Combine 1-2 cans of Oregon's Choice Gourmet Albacore with the mango salsa and serve inside a warmed pita.