Thai Tuna Sliders with Broccoli Slaw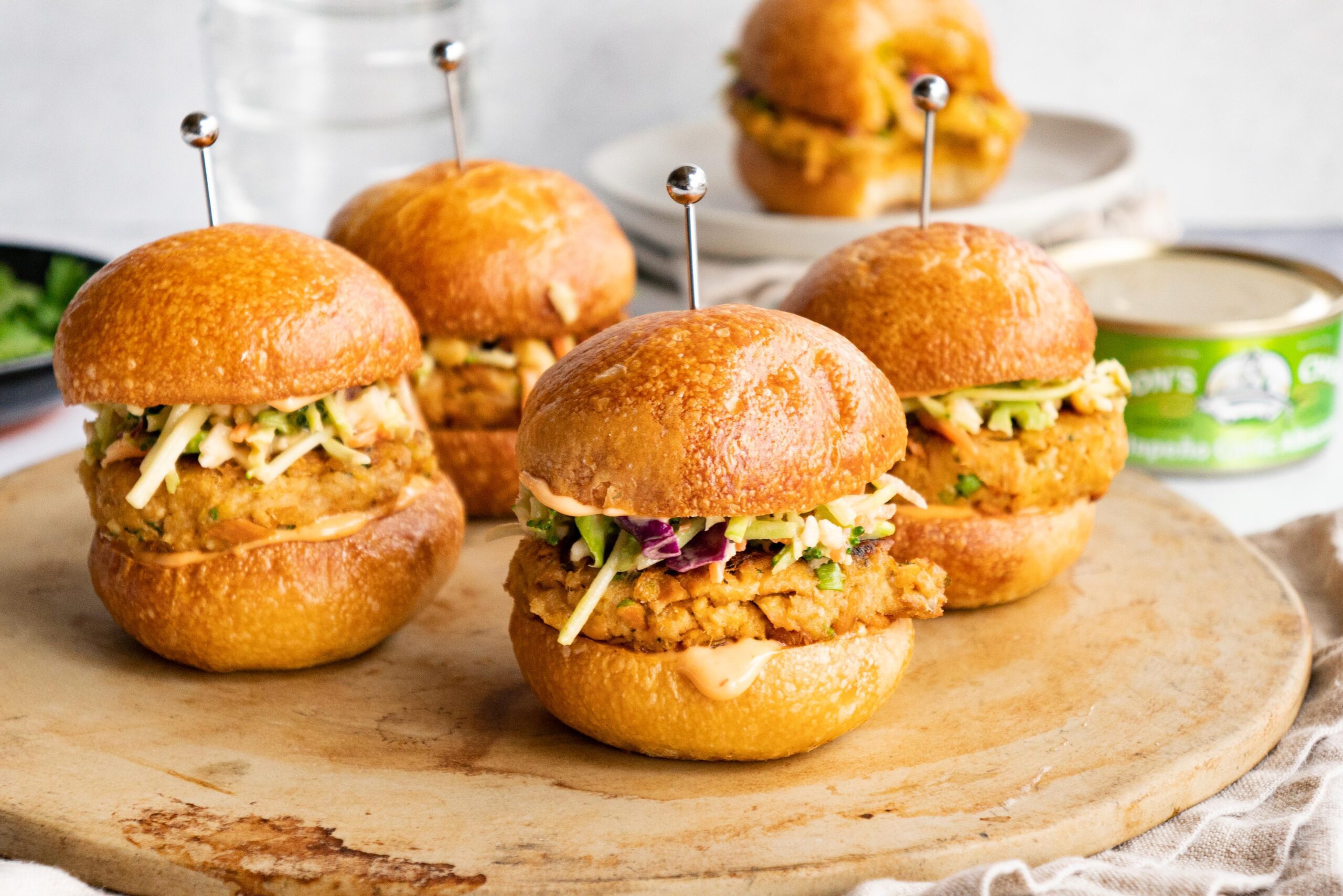 Ingredients – makes 6 sliders
1 egg + 1 egg yolk

1/2 cup breadcrumbs

¼ cup chopped green onion

2 tbsp chopped cilantro

½ lime, juiced

1 inch knob ginger, grated

Avocado oil, to fry

6 slider buns, to serve

Mayonnaise + sriracha sauce, to serve – optional

Chopped cilantro, to serve 
Slaw
12 oz broccoli slaw

¼ cup chopped peanuts

1 tbsp mayonnaise

1 tbsp creamy peanut butter

1 tbsp honey

1 tbsp sesame oil

½ tbsp sriracha

½ lime, juiced
Directions
In a medium bowl, break up the tuna with a fork. Add the egg, breadcrumbs, green onion, cilantro, lime, and ginger. Mix well to combine the ingredients, add the egg yolk, and mix again.

Working one at a time, scoop ⅓ cup of the tuna mixture and form into a small patty. Repeat with the remaining tuna mixture (you should have 6 patties). Let chill in the fridge for 30 minutes.

Meanwhile, in a small bowl, mix together the ingredients for the slaw.

Heat a large skillet over medium heat and add a couple tablespoons of avocado oil to prepare to fry the patties. When the oil is hot, place the patties in the skillet and fry for about 3-4 minutes per side, or until golden brown and crisp.

In a small bowl, whisk together your desired amount of mayonnaise and sriracha until smooth.

Assemble the sliders with a layer of sriracha mayo, then the tuna patty. Top with the slaw and cilantro if desired.