Recipes

---
Rustic Italian Albacore Sandwich
Smoked Tuna Cream Cheese Board
Jalapeno Garlic Albacore Skillet Breakfast Hash 
Gourmet Albacore Tomato Bisque 
Gluten-Free Smoked Tuna Cakes with Chipotle Aioli
Jalapeno Garlic Albacore Tacos
Mediterranean Style Albacore Tuna Wraps 
Thai Tuna Sliders with Broccoli Slaw
Heirloom Tomato & Tuna Summer Salad
Gourmet Albacore & Peach Salad
Tuna Salad with Lentils and Bruschetta
Chili-lime & Carrot Tuna Boats
Albacore Curry with Green Rice
Tuna Salad Pitas with Mango Salsa
Spaghetti Squash Tuna Noodle Casserole
Tuna Rigatoni with Sun-Dried Tomatoes
Jalapeno Garlic Albacore with Mango Salsa
Ginny's Smokey Albacore Spread
Capt. Herb's Quick and Easy Foul Weather Tuna
Aguacate rellano con atun 
Recipe from long time customer Maggie Van Ostrand
"Since you sell the finest tuna of all, I herewith gift you with a recipe that always and forever gets
raves, whether offered at my home, or brought to Pot Lucks. Huge Hit."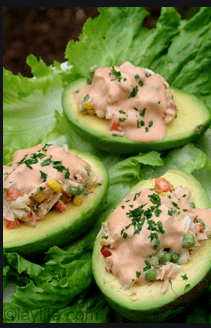 Aguacate rellano con atun
1 can of Oregon's Choice Gourmet Albacore Tuna
½ small white onion, finely chopped
½ cup cooked green peas
½ cup cooked corn
½ cooked and diced carrots
1 hardboiled egg, diced
1 small tomato, seeded and finely chopped
1 hot pepper, chopped finely (optional, I don't use this)
1 cup of salsa rosada (see below)
1 tbs chopped parsley, plus more to garnish
6 ripe but firm avocados
Juice of 1 lemon
12 lettuce leaves, washed
Salt and pepper to taste (I didn't use any)
Combine tuna, chopped onions, green peas, corn, carrots, egg, tomato, parsley and ½ cup of the salsa rosada, mix all ingredients together.
Cut the avocados lengthwise, remove the seed and peel the avocados, drizzle the lemon juice over the avocados to prevent them from darkening.
Place lettuce leaves on a large serving dish and place the avocado halves on top.
Fill the avocados with the tuna stuffing, add some salsa rosada on top of each avocado and sprinkle with chopped parsley.
SALSA ROSADA
1 cup homemade mayonnaise (or store-bought)
6 tbs ketchup
Combine both ingredients in a small bowl and mix well.