Salmon
---
Smoked Chinook Salmon 4 oz. Fillet (Single Pouch)
$16.00
From our friends and fellow fishing family Barnacle Bill's!
This is wild Oregon Chinook salmon caught off the Oregon coast, hand filleted, brined and smoked in a smokehouse, then packaged in gold foil pouches to be shelf stable (good for 3 years).
Filleted by hand and alder smoked to perfection, Barnacle Bill's Medium Wild Smoked Chinook Salmon is a firmer cut from the strong back of the ocean-roving fish.
Pouches of smoked salmon have a long shelf life an do not require refrigeration until after the pouch has been opened.
Medium is a nice balance between dry and moist. Savory, but not too wet.
Barnacle Bill's Seafood Market has been providing the freshest seafood available in Lincoln City, Oregon for over 70 years.
$16/each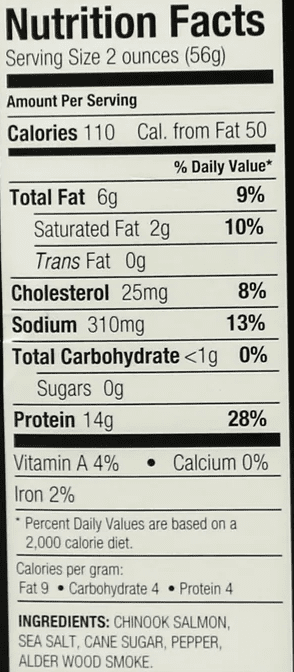 In stock
Recipes

---
Reviews

---
You may also like…
Due to the cans we use for shellfish being discontinued by the manufacturer, this product will be out of stock for the foreseeable future.  

These petite pink shrimp are caught sustainably by local West Coast fishermen in the deep, cold ocean waters off the coasts of Oregon and Washington and are canned in Coos Bay, OR.

The delicate clean and crisp flavor make these perfect for salads, appetizers and shrimp cocktails.

Ingredients: Pacific Pink Shrimp, water, sea salt and citric acid (to prevent browning).

MSC certified and packed in non-BPA cans.

For a true Oregon Shrimp Cocktail, combine ketchup and horseradish and add to one drained can of Pacific Pink Shrimp.

Please note that these are approximately 2 oz. (drained weight) shrimp per can and packed in water (with citric acid) to prevent browning. Drain before serving.

Cases are 24 cans. Half cases are 12 cans.

Save $6 when you buy a case (24 cans)

Pacific Pink Shrimp

$

28.00 –

$

162.00

Good Food Awards Winner 2022!

Fresh albacore is packed with minced garlic, diced jalapenos and a little salt to create a stunning flavor that will leave you hooked!

No water, oil or preservatives are added. Just fresh Albacore packed in it's own natural juices, fresh jalapenos and garlic.

Tested: 3,050 mg Omega 3 per 100 grams.

MSC certified. Packed in non-BPA cans.

Cases are 24 cans. Half cases are 12 cans.

$10.50/each.

Save $6 when you buy a case (24 cans)

Jalapeno Garlic Albacore Tuna 7.5 oz.

$

42.00 –

$

246.00

Large chunks of Wild Alaskan Red Sockeye Salmon fill this hearty and healthy chowder. Blended with potatoes, corn, celery, carrots & onions in a creamy sauce.

INGREDIENTS: Heavy cream (Grade A pasteurized cream), water, smoked sockeye salmon (sockeye salmon, salt), red potatoes, sweet corn, onions, celery, sockeye salmon, butter (pasteurized cream, salt), carrots, tapioca starch, millet flour, sea salt, tomato paste, spices, sugar, garlic, gelatin, lemon juice, tabasco (distilled vinegar, red pepper, salt), natural flavor, natural smoke flavoring.
Contains: Fish, milk.

Packed in a 9 oz, non-BPA pouch.

$8/each.

Smoked Salmon Chowder

$

32.00 –

$

192.00