Chowders and Bisques
---
Smoked Salmon Chowder
$32.00 – $192.00
Large chunks of Wild Alaskan Red Sockeye Salmon fill this hearty and healthy chowder. Blended with potatoes, corn, celery, carrots & onions in a creamy sauce.
INGREDIENTS: Heavy cream (Grade A pasteurized cream), water, smoked sockeye salmon (sockeye salmon, salt), red potatoes, sweet corn, onions, celery, sockeye salmon, butter (pasteurized cream, salt), carrots, tapioca starch, millet flour, sea salt, tomato paste, spices, sugar, garlic, gelatin, lemon juice, tabasco (distilled vinegar, red pepper, salt), natural flavor, natural smoke flavoring.
Contains: Fish, milk.
Packed in a 9 oz, non-BPA pouch.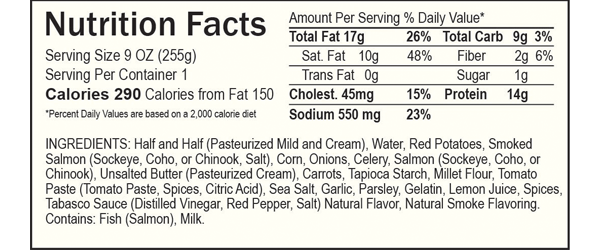 $8/each.
Recipes

---
Reviews

---
Only logged in customers who have purchased this product may leave a review.
You may also like…
This smooth and creamy soup is loaded with wild and locally-caught Pacific Pink Shrimp, Sockeye Salmon, & Sea Clams with roasted red peppers, diced vegetables, and natural seasoning.

INGREDIENTS: Heavy cream (pasteurized Grade A cream), water, Oregon pink shrimp, sea clams, sockeye salmon, onions, white wine, celery, butter (pasteurized cream, salt), tapioca starch, roasted red bell peppers, millet flour, tomato paste, sea salt, spices, sugar, garlic, gelatin, natural flavor, lemon juice, tabasco (distilled vinegar, red pepper, salt).
Contains: Fish, crustacean shellfish, milk.

Packed in a 9 oz, non-BPA pouch.

$8/each.

Seafood Bisque

$

32.00 –

$

192.00

Loaded with tender sweet sea clams in a rich creamy chowder with red potatoes, carrots and celery.

Packed in a 9 oz, non-BPA pouch.

INGREDIENTS: Half and Half (Pasteurized Milk and Cream), Sea Clams, Red Potatoes, Water, Onions, Celery, Unsalted Butter (Pasteurized Cream), Carrots, White Wine, Tapioca Starch, Millet Flour, Fish Sauce (Water, Anchovy Extract, Salt, Sugar) Sea Salt, Garlic, Parsley, Lemon Juice, Natural Flavor, Spices, Tabasco Sauce (Distilled Vinegar, Red Pepper, Salt)

Contains: Crustacean Shellfish (Shrimp), Milk.

$8/each.

Clam Chowder

$

32.00 –

$

192.00

Due to the cans we use for shellfish being discontinued by the manufacturer, this product will be out of stock for the foreseeable future.  

These petite pink shrimp are caught sustainably by local West Coast fishermen in the deep, cold ocean waters off the coasts of Oregon and Washington and are canned in Coos Bay, OR.

The delicate clean and crisp flavor make these perfect for salads, appetizers and shrimp cocktails.

Ingredients: Pacific Pink Shrimp, water, sea salt and citric acid (to prevent browning).

MSC certified and packed in non-BPA cans.

For a true Oregon Shrimp Cocktail, combine ketchup and horseradish and add to one drained can of Pacific Pink Shrimp.

Please note that these are approximately 2 oz. (drained weight) shrimp per can and packed in water (with citric acid) to prevent browning. Drain before serving.

Cases are 24 cans. Half cases are 12 cans.

Save $6 when you buy a case (24 cans)

Pacific Pink Shrimp

$

28.00 –

$

162.00