Recipes

Spaghetti Squash Tuna Noodle Casserole
The Perfect Tuna Melt
Spicy Keto Tuna Melt Cups
Avocado Tuna Patties
Avocado Tuna Salad
Shrimp and Smoked Oyster Chowder
Smoked Oyster Spread
Other Recipes
Crab Recipes
Salmon Recipes
Tuna Recipes
Smoked Salmon Spread
Shrimp Cocktail
Hot Crab Appetizer
Tuna Kale and Egg Salad
Roasted Zucchini Tuna Melts
Tuna Rigatoni with Sun-Dried Tomatoes
Salmon & Pesto Pasta Salad
Jalapeno Garlic Albacore with Mango Salsa
Beverly's Mediterranean Salad
Shrimp Pasta Salad
Crab Artichoke Fondue
Dungeness Crab Beignets
Crab Bisque
California Tuna Salad
Jake's Casserole
Tuna Salad
Grandma's Sandwich Spread
Tuna Patties
Ginny's Smokey Albacore Spread
Capt. Herb's Quick and Easy Foul Weather Tuna
Ginny's Crescent Tuna Rolls
Salmon Burgers
Smoked Salmon Pate
Oregon's Choice Pate
Salmon and Macaroni
Salmon Appetizers
Salmon Soufflé
Salmon Cakes
Salmon Log

Zucchini Tuna Melts
These delicious tuna melts are the low-carb gluten-free version of a classic. You will want to make them again and again. Simple Ingredients. Vibrant flavor. Ready in less than 30 minutes!
INGREDIENTS
2

 

small zucchini

1

can 7.5 oz.

Albacore Tuna,

 

drained

1

 

celery stalk

 

minced

1

 

small shallot

 

minced (can sub red onion if preferred)

¼

 

tsp.

 

fresh or dried dill

½

 

tbsp.

 

flat leaf parsley

 

minced

2

 

tbsp.

 

fresh lemon juice

2

 

slices

 

tomato

 

chopped

1/3

 

c.

 

parmesan cheese
INSTRUCTIONS
Preheat your oven to 400 F and line a baking sheet with parchment. Slice the zucchini in half and using a teaspoon, scoop out the center, about an inch. Spray each half lightly with cooking spray and roast for 15-20 minutes (this will depend on the size of your zucchini).

The key is to have them tender, but not mushy. Use a fork to see how easily you can pierce the side, look for slight browning on the side. Meanwhile, mix together the tuna, celery, shallot, dill and parsley, and the lemon juice.

Once the zucchini is done remove from oven and turn on the broiler. Fill zucchini with the tuna mixture, sprinkle with chopped tomato and top with the Parmesan cheese. Broil for 2-3 minutes or until the cheese has browned and is crispy on top.

From triedandtasty.com
Spaghetti Squash Tuna Noodle Casserole
A healthy spin on a comfort food classic, these spaghetti squash tuna noodle casserole boats are filled with loads of creamy goodness and ample protein. Gluten-free, dairy-free, low-carb and paleo!
Ingredients
2 6 oz. cans Albacore Tuna, drained
1 tablespoon olive oil
1 15 oz can coconut milk (regular or lite)
1 large yellow onion, chopped
2 cloves garlic, minced
2 cups sliced baby bella mushrooms
1 1/2 teaspoon pepper
1 1/2 teaspoon sea salt
1 medium-large spaghetti squash
1 cup frozen peas, thawed
1/4 teaspoon cayenne pepper
pinch of nutmeg
1/2 cup crushed sprouted seed or almond flour crackers
parsley, for garnish
by Brittany Mullins
Instructions
Heat oven to 350°. Chop spaghetti squash in half length wise, scoop out seeds with a spoon. Coat the inside of each half with a tiny bit of olive oil. Place on a baking sheet, cut side down and bake for about 40-50 minutes or until you can easily pierce a fork through the squash.
While squash is baking, prepare your sauce by adding oil to a medium pot on medium-high heat. Add onion, garlic, salt, pepper, cayenne and nutmeg. Cook, stirring often, for about 10 minutes or until onion and garlic are aromatic and translucent.
Add mushrooms and cook until onions are browning a bit and mushrooms are soft.
Add in coconut milk and cook on medium high until sauce has reduced in half, to the thickness of gravy. Be sure to stir the sauce often so that it doesn't stick. This should take about 15-20 minutes. Once reduced, remove sauce from heat, add in thawed frozen peas and tuna. Stir to combine.
By this time your squash should be fully cooked, or close to it. Remove squash from oven and let cool for 5-10 minutes before scraping the inside of the squash with a fork to remove the spaghetti-like strands.
The cooked spaghetti squash may seem liquidy. If so, place in a fine-mesh colander to remove access liquid. Press strands down with a fork or spatula to really press it all out.
Add drained spaghetti squash strands into the sauce mixture and toss to combine.
Spoon spaghetti squash tuna mixture into the bottom of each squash half. Top each with 1/4 cup cracker crumbs.
Bump oven temp to 375° and bake for 10 minutes, or until casserole is heated through and crackers are a little golden.
Remove from oven, sprinkle with fresh parsley and enjoy!
The Perfect Tuna Melt
Recipe from sarahtitus.com
It's ooey-gooey and packed full of delicious flavor, and perfect for the nights when you just want to put something on the table super quick or for that lunch date with your friends.
This Tuna Melt is so perfectly DELICIOUS and super easy to make recipe! It's definitely not your classic Tuna melt!
INGREDIENTS:
Tuna, 2 x 6-oz cans, drained
Onion, medium size, chopped
Celery, 1/2 a stalk, chopped
Garlic (1 clove), minced
Parsley, 1 tablespoon, chopped
Mayonnaise, 3-4 tablespoons
Extra Virgin Olive Oil, 3 tablespoons, divided
Mozzarella, 1/3 cup, shredded
Bread, sliced
Butter, softened
Salt and Pepper to taste
DIRECTIONS:
Step 1: Drain liquid from tuna and put the tuna into a medium bowl.
Step 2: Chop onion, celery, and parsley.  Mince garlic and add ingredients to tuna.
Step 3: Add mayonnaise, olive oil (for a lighter version, omit olive oil), and mozzarella cheese. Combine all ingredients until well incorporated. Salt and pepper to taste.
Step 4: Place a non-stick skillet on the stove and add 1 tablespoon of extra virgin olive oil. When the skillet is hot, take a slice of bread and generously spread butter on one side.
Adding butter AND extra virgin olive oil helps the cooking process.
The olive oil helps the crust not burn as fast so that you get a golden brown exterior, not burnt.  The butter adds the flavor. It's a great trick to use when toasting bread on the stove top.
Step 5: Place the bread (buttered side down) in the hot skillet. Be sure to keep the temp at a consistent heat (and don't cook too fast.)
Step 6: Using a spoon, scoop about 2 tablespoons of tuna mixture on bread while it is browning.
Step 7: Butter another slice of bread with butter and place non-buttered side on top of tuna.
Step 8: Using a spatula, check to see if the bread is toasted brown. If so, turn the tuna melt over and grill the other side until it's golden brown.
Spicy Keto Tuna Melt Cups
Recipe from hiptoketo.com
yield: 7 SERVINGS
prep time: 10 MINUTES
cook time: 25 MINUTES
total time: 35 MINUTES
Spicy cheese and tuna are melted together in a muffin tin for a delicious keto meal idea.
INGREDIENTS
6 oz. can of tuna, drained
2 large eggs
1/4 cup sour cream
1/4 cup real mayonnaise
1/4 cup onion, chopped
3/4 cup sharp cheddar cheese, shredded
3/4 cup pepper jack cheese, shredded
1 tablespoon fresh parsley, chopped
dash of salt & pepper
20 slices jalapenos from a jar
DIRECTIONS
Preheat oven to 350 degrees and grease a muffin tin.
In a mixing bowl combine tuna, eggs, sour cream, mayo, onions, cheese, parsley, salt, and pepper.
Fill muffin pan with mixture, evenly. Top each muffin with a few slices of jalapenos. (This batch made 7 muffins)
Bake at 350 degrees for 25 minutes. Serve warm.
Avocado Tuna Patties
Recipe from seededatthetable.com
Turn your can of tuna into a meal with these pan-fried Avocado Tuna Patties.  Only 4 ingredients and Whole30 approved!  Crispy on the outside, these simple Avocado Tuna Patties are a tasty healthy lunch option. This is a great healthy option that you can quickly cook on the stove and serve over a bed of greens.  Serve with spinach and a drizzle of olive oil, balsamic vinegar and salt/pepper.  Bonus points for a sprinkle of flax seed and pecans.
INGREDIENTS:
7.5 oz. can of Albacore tuna
1 avocado, peeled and pitted
1/4 cup almond flour
3 tablespoons mayonnaise
salt & pepper, to taste
DIRECTIONS:
Mix all ingredients in a large bowl.  Shape into 10 small patties and cook on preheated nonstick skillet for 3 to 4 minutes per side.
To make the tuna patties, quickly mix all four ingredients in a bowl then scoop mounds into a preheated skillet.  The patties only take only 3-4 minutes to cook on each side and they're done!
Avocado Tuna Salad
Ingredients
15

 

oz

 

tuna in oil, drained and flaked

 

(2- 7.5 oz cans)

1

 

English cucumber

 

sliced

2

 

large or 3 medium avocados

 

peeled, pitted & sliced

1

 

small/medium red onion

 

thinly sliced

1/4 

cup

 

cilantro

 

(1/2 of a small bunch)

2

 

Tbsp

 

lemon juice

 

freshly squeezed

2

 

Tbsp

 

extra virgin olive oil

1

 

tsp

 

sea salt

 

or to taste

1/8

 

tsp

 

black pepper
Instructions
In a large salad bowl, combine: sliced cucumber, sliced avocado, thinly sliced red onion, drained tuna, and 1/4 cup cilantro

Drizzle salad ingredients with 2 Tbsp lemon juice, 2 Tbsp olive oil, 1 tsp salt and 1/8 tsp black pepper (or season to taste). Toss to combine and serve.
Shrimp and Smoked Oyster Chowder
INGREDIENTS
3 cups water
1 cup bottled clam broth
2 cans Oregon's Choice Pacific Pink Shrimp
6 garlic cloves—4 smashed, 2 minced
1/4 cup dry sherry
1/2 teaspoon crushed red pepper
2 bay leaves
1 onion, chopped (about 1 1/2 cups)
1 tablespoon extra-virgin olive oil
1 small fennel bulb, cored and finely diced (1/2 cup)
1 celery rib, finely diced
1 small green bell pepper, finely diced
One 14-ounce can peeled Italian tomatoes, finely chopped and juices reserved
1 medium baking potato, peeled and cut into 1/2-inch pieces
Salt and freshly ground black pepper
6 ounces skinless grouper or cod fillet, cut into 1-inch pieces
One 7. 5 oz can Oregon's Choice Smoked Pacific Oysters, drained and chopped
1 tablespoon Worcestershire sauce
1 cup buttermilk, at room temperature
2 tablespoons chopped flat-leaf parsley
In a large saucepan, combine the water and clam broth with the smashed garlic, sherry, crushed red pepper, bay leaves and one third of the onion. Bring to a boil and simmer, covered, over low heat for 20 minutes. Strain the stock into a heatproof bowl and discard the solids.
In a soup pot, heat the oil. Add the fennel, celery, bell pepper, minced garlic and the remaining onion. Cover and cook over moderate heat, stirring once or twice, until the vegetables are barely softened, 3 minutes. Uncover and cook until tender, 3 minutes longer. Add the tomatoes with their juices and the stock; bring to a simmer. Add the potato, season with salt and pepper and simmer until just tender, 15 minutes. Add the shrimp, grouper, oysters and Worcestershire sauce; simmer until cooked through, 3 minutes. Off the heat, stir in the buttermilk and parsley. Serve in deep bowls.
Smoked Oyster Spread
Try this simple recipe to bring together the complex flavors of smoked oysters with cream cheese and spices.
Ingredients
1

(8-ounce)

package cream cheese,

softened

1

 

can (7.5 oz) Oregon's Choice Smoked Pacific Oysters (drained)

1

teaspoon

Worcestershire sauce

1/8

teaspoon

cayenne pepper
Instructions
Place cream cheese in a medium bowl.

Add smoked oysters, Worcestershire sauce, and cayenne pepper.

Stir to combine well.

Serve with crackers and/or cucumber slices.
Other Recipes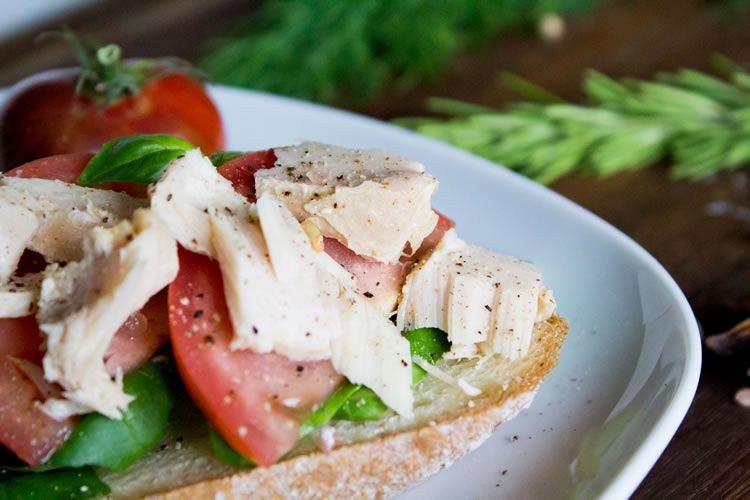 Crab Recipes