Recipes

Albacore Curry with Green Rice
Tangy Tuna Salad
Tuna Puttanesca
Tuna Salad Pitas with Mango Salsa
Aguacate rellano con atun 
Wild Rice Crab Cakes
Zucchini Tuna Melts
Spaghetti Squash Tuna Noodle Casserole
Spicy Keto Tuna Melt Cups
Avocado Tuna Patties
Avocado Tuna Salad
Shrimp and Smoked Oyster Chowder
Smoked Oyster Spread
Shrimp and Oyster Recipes
Crab Recipes
Canned Salmon Recipes
Canned Tuna Recipes
Smoked Salmon Spread
Shrimp Cocktail
Hot Crab Appetizer
Tuna Kale and Egg Salad
Roasted Zucchini Tuna Melts
Tuna Rigatoni with Sun-Dried Tomatoes
Salmon & Pesto Pasta Salad
Jalapeno Garlic Albacore with Mango Salsa
Beverly's Mediterranean Salad
Shrimp Pasta Salad
Crab Artichoke Fondue
Dungeness Crab Beignets
Crab Bisque
California Tuna Salad
Jake's Casserole
Tuna Salad
Grandma's Sandwich Spread
Tuna Patties
Ginny's Smokey Albacore Spread
Capt. Herb's Quick and Easy Foul Weather Tuna
Ginny's Crescent Tuna Rolls
Salmon Burgers
Smoked Salmon Pate
Oregon's Choice Pate
Salmon and Macaroni
Salmon Appetizers
Salmon Soufflé
Salmon Cakes
Salmon Log

SueAnna's Shrimp Salad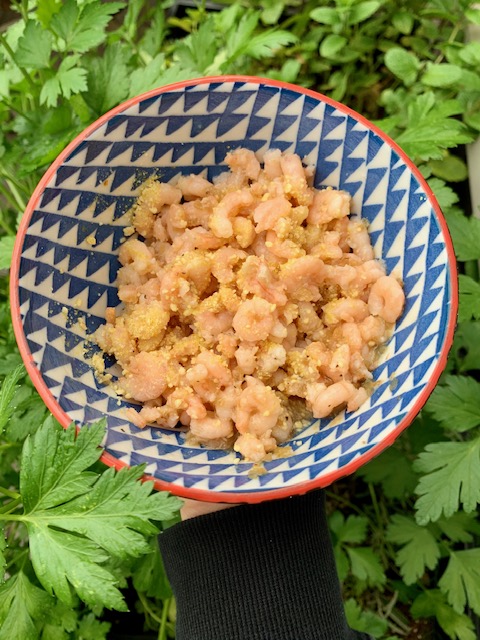 SueAnna's Shrimp Salad
This is my go-to quick lunch!
Ingredients:
2 cans Oregon's Choice Pacific pink shrimp, drained
2 tbsp. Dr. Bragg's Vinaigrette (I really like this salad dressing- it's a tangy, apple cider vinegar vinaigrette)
Vegan parmesan to taste*
Mix together in a small bowl and enjoy!
*How to make the vegan parmesan:
In a food processor combine:
1.5 cups raw cashews
6 tbsp. nutritional yeast
2 tsp salt
1/2 tsp garlic powder
Process into a fine powder.
Sprinkle on anything and everything!
Keeps in the fridge for up to 2 months.
Albacore Curry with Green Rice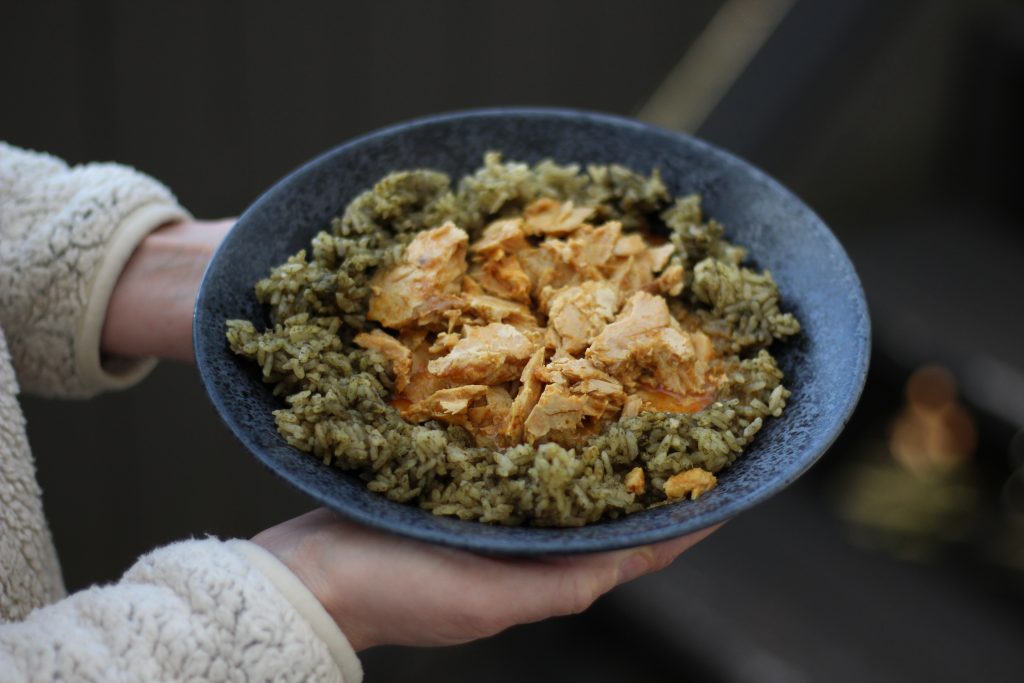 Albacore Curry with Green Rice
Recipe by SueAnna Harrison
This is a quick and easy recipe that utilizes extra greens you have on hand that need to be used right away.
Ingredients:
6 oz can Oregon's Choice Gourmet Albacore Tuna
1 TBSP curry paste (We like Thai and True brand, but any brand and color will do)
Liquid aminos (or soy sauce)
1 cup coconut milk
1 cup short grain white rice (or basmati)
2.5 cups vegetable broth
3-4 handfuls of raw leafy greens (spinach, kale, chard, anything will work!)
Directions:
First cook the green rice as explained below. Once the rice is nearly ready, make the albacore curry. Add the curry on top of the green rice and serve immediately.
For the green rice
First make Green Broth, using any surplus greens that you have on hand. We like to use a mix of spinach, kale and chard, but you can use any greens.
Blend the raw greens with vegetable broth and a pinch of salt in a blender (Vitamix works best) until you have a very smooth liquid.
Cook rice with a ratio of 1 cup rice: 2.5 cups green broth. We like to use our Instant Pot on the rice setting, but you can make it on the stove, too.
For the Albacore Curry
Saute 1 heaping TBSP of curry paste in a little bit of olive oil, add a dash of liquid aminos and 1 cup of coconut milk. Bring to a simmer and add an entire 6 oz can of Oregon's Choice Gourmet albacore tuna (and the fish oil, too!) and cook just long enough to thoroughly heat the tuna.
Serve with green rice and enjoy!
Tangy Tuna Salad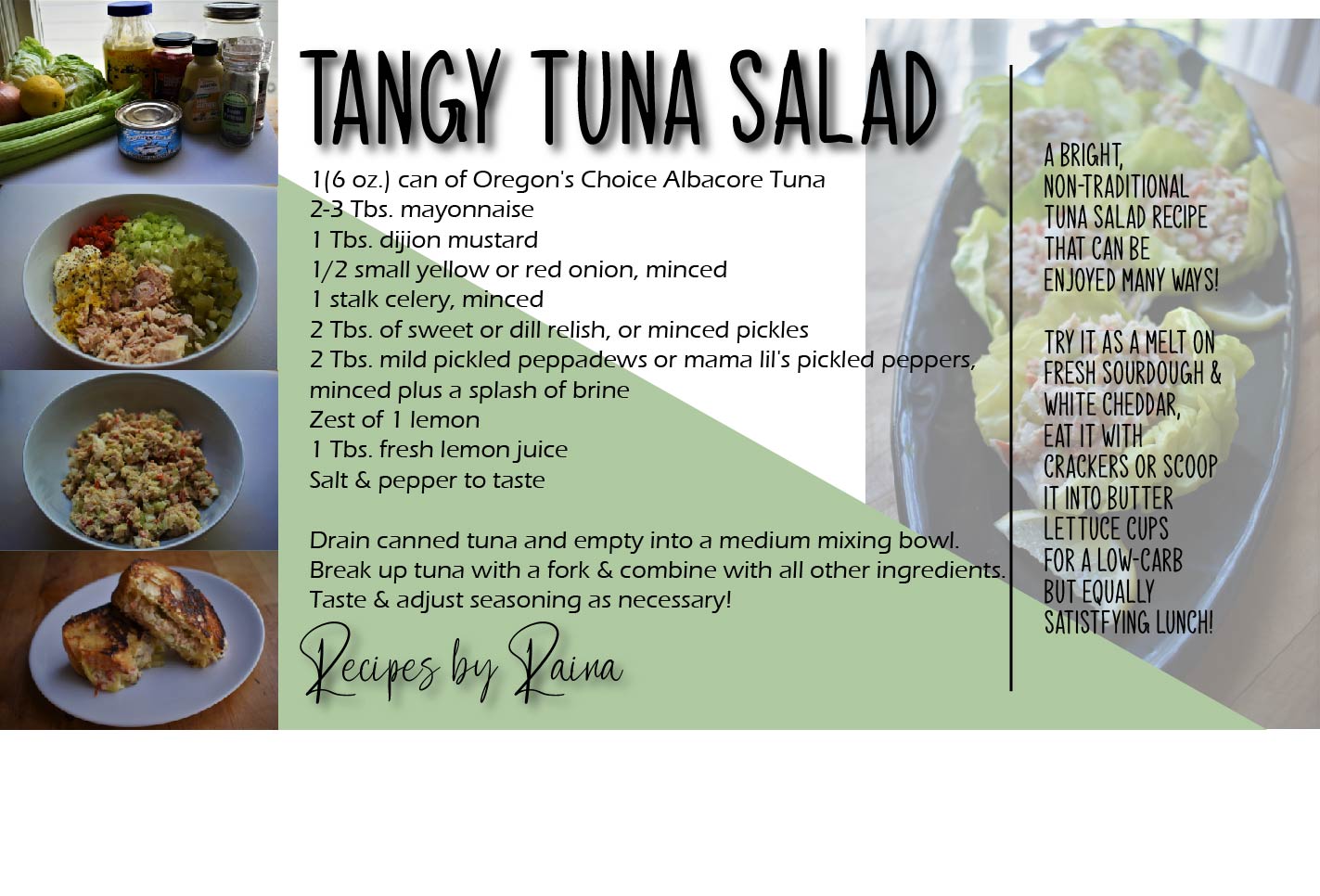 Tuna Puttanesca

Tuna Salad Pitas with Mango Salsa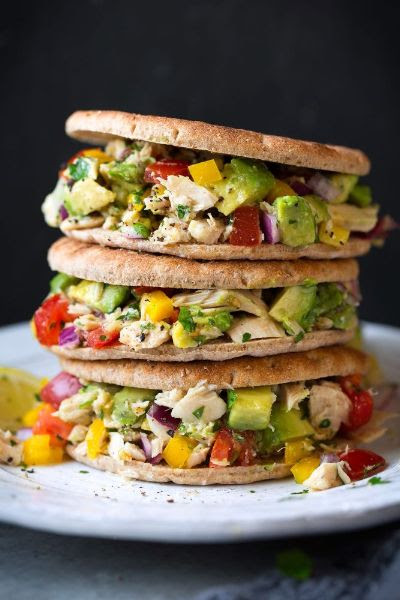 This is our favorite way to make tuna salad right now. The secret ingredient is mango salsa!
It pairs amazingly with tuna and is super easy to make.
Combine:
3 ripe mangos, diced
1 medium red bell pepper, chopped.
½ cup chopped red onion.
¼ cup packed cilantro leaves, chopped.
1 jalapeño, seeded and minced.
1 large lime, juiced (about ¼ cup lime juice)
⅛ to ¼ teaspoon salt, to taste.
Combine 1-2 cans of Oregon's Choice Gourmet Albacore with the mango salsa and serve inside a warmed pita.
Aguacate rellano con atun 
Recipe from long time customer Maggie Van Ostrand
"Since you sell the finest tuna of all, I herewith gift you with a recipe that always and forever gets
raves, whether offered at my home, or brought to Pot Lucks. Huge Hit."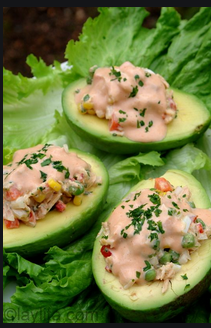 Aguacate rellano con atun
1 can of Oregon's Choice Gourmet Albacore Tuna
½ small white onion, finely chopped
½ cup cooked green peas
½ cup cooked corn
½ cooked and diced carrots
1 hardboiled egg, diced
1 small tomato, seeded and finely chopped
1 hot pepper, chopped finely (optional, I don't use this)
1 cup of salsa rosada (see below)
1 tbs chopped parsley, plus more to garnish
6 ripe but firm avocados
Juice of 1 lemon
12 lettuce leaves, washed
Salt and pepper to taste (I didn't use any)
Combine tuna, chopped onions, green peas, corn, carrots, egg, tomato, parsley and ½ cup of the salsa rosada, mix all ingredients together.
Cut the avocados lengthwise, remove the seed and peel the avocados, drizzle the lemon juice over the avocados to prevent them from darkening.
Place lettuce leaves on a large serving dish and place the avocado halves on top.
Fill the avocados with the tuna stuffing, add some salsa rosada on top of each avocado and sprinkle with chopped parsley.
SALSA ROSADA
1 cup homemade mayonnaise (or store-bought)
6 tbs ketchup
Combine both ingredients in a small bowl and mix well.
Wild Rice Crab Cakes
This recipe is from long-time customers Mary Jean & Jim Nussbaum
Wild Rice Crab Cakes
1.5 cups water
1/2 cup uncooked wild rice
2 cans Oregon's Choice Dungeness Crab
3/4 cup dry bread crumbs (Progresso Italian bread crumbs are best)
1/2 cup finely chopped red bell pepper
1/4 cup minced shallots
1/4 cup light mayo
2 tbsp. dijon mustard
1.5 tbsp. fresh lemon juice
1/2 tsp salt
1/2 tsp ground cumin
1/8 tsp ground red pepper flakes
2 large egg whites, slightly beaten
Bring water to a boil, add rice. Cover and simmer for 1/2 hour.
Combine cooked wild rice, crab and the rest of the ingredients in a large bowl. Divide mixture into 8 equal portions, shaping each into a patty.
Heat 2 tsp. olive oil in a large non-stick skillet over medium heat. Add 4 patties, cooking for 4 minutes on each side. Repeat with remaining oil and patties.
Serve immediately and enjoy!
Zucchini Tuna Melts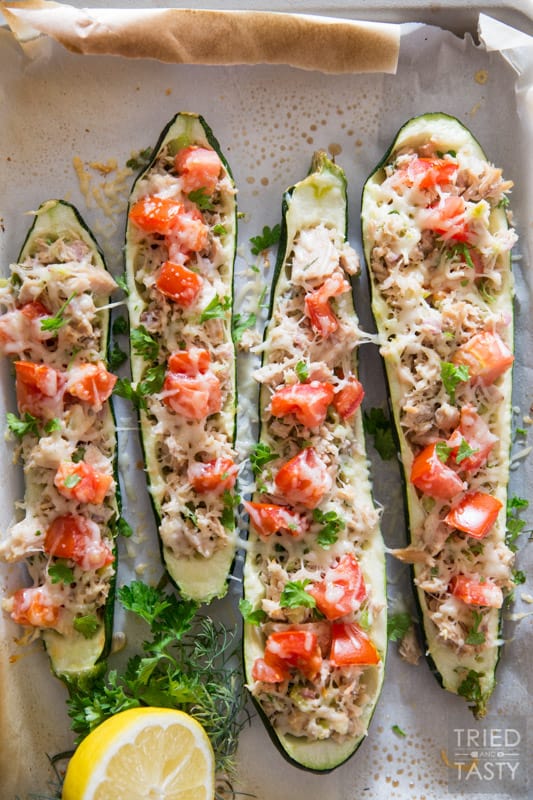 These delicious tuna melts are the low-carb gluten-free version of a classic. You will want to make them again and again. Simple Ingredients. Vibrant flavor. Ready in less than 30 minutes!
From triedandtasty.com
INGREDIENTS
2

 

small zucchini

1

can 7.5 oz.

Albacore Tuna,

 

drained

1

 

celery stalk

 

minced

1

 

small shallot

 

minced (can sub red onion if preferred)

¼

 

tsp.

 

fresh or dried dill

½

 

tbsp.

 

flat leaf parsley

 

minced

2

 

tbsp.

 

fresh lemon juice

2

 

slices

 

tomato

 

chopped

1/3

 

c.

 

parmesan cheese
INSTRUCTIONS
Preheat your oven to 400 F and line a baking sheet with parchment. Slice the zucchini in half and using a teaspoon, scoop out the center, about an inch. Spray each half lightly with cooking spray and roast for 15-20 minutes (this will depend on the size of your zucchini).

The key is to have them tender, but not mushy. Use a fork to see how easily you can pierce the side, look for slight browning on the side. Meanwhile, mix together the tuna, celery, shallot, dill and parsley, and the lemon juice.

Once the zucchini is done remove from oven and turn on the broiler. Fill zucchini with the tuna mixture, sprinkle with chopped tomato and top with the Parmesan cheese. Broil for 2-3 minutes or until the cheese has browned and is crispy on top.
Spaghetti Squash Tuna Noodle Casserole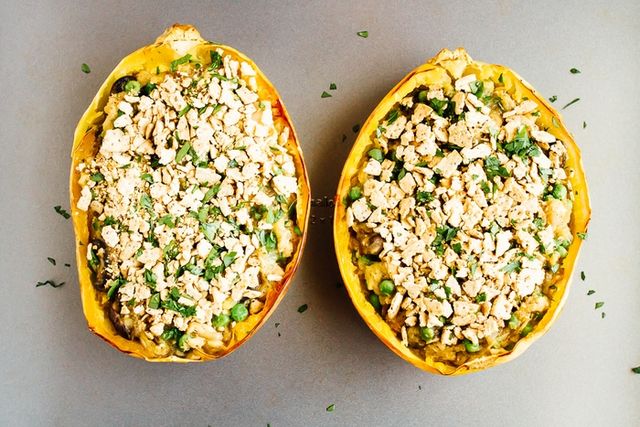 A healthy spin on a comfort food classic, these spaghetti squash tuna noodle casserole boats are filled with loads of creamy goodness and ample protein. Gluten-free, dairy-free, low-carb and paleo!
Ingredients
2 6 oz. cans Albacore Tuna, drained
1 tablespoon olive oil
1 15 oz can coconut milk (regular or lite)
1 large yellow onion, chopped
2 cloves garlic, minced
2 cups sliced baby bella mushrooms
1 1/2 teaspoon pepper
1 1/2 teaspoon sea salt
1 medium-large spaghetti squash
1 cup frozen peas, thawed
1/4 teaspoon cayenne pepper
pinch of nutmeg
1/2 cup crushed sprouted seed or almond flour crackers
parsley, for garnish
by Brittany Mullins
Instructions
Heat oven to 350°. Chop spaghetti squash in half length wise, scoop out seeds with a spoon. Coat the inside of each half with a tiny bit of olive oil. Place on a baking sheet, cut side down and bake for about 40-50 minutes or until you can easily pierce a fork through the squash.
While squash is baking, prepare your sauce by adding oil to a medium pot on medium-high heat. Add onion, garlic, salt, pepper, cayenne and nutmeg. Cook, stirring often, for about 10 minutes or until onion and garlic are aromatic and translucent.
Add mushrooms and cook until onions are browning a bit and mushrooms are soft.
Add in coconut milk and cook on medium high until sauce has reduced in half, to the thickness of gravy. Be sure to stir the sauce often so that it doesn't stick. This should take about 15-20 minutes. Once reduced, remove sauce from heat, add in thawed frozen peas and tuna. Stir to combine.
By this time your squash should be fully cooked, or close to it. Remove squash from oven and let cool for 5-10 minutes before scraping the inside of the squash with a fork to remove the spaghetti-like strands.
The cooked spaghetti squash may seem liquidy. If so, place in a fine-mesh colander to remove access liquid. Press strands down with a fork or spatula to really press it all out.
Add drained spaghetti squash strands into the sauce mixture and toss to combine.
Spoon spaghetti squash tuna mixture into the bottom of each squash half. Top each with 1/4 cup cracker crumbs.
Bump oven temp to 375° and bake for 10 minutes, or until casserole is heated through and crackers are a little golden.
Remove from oven, sprinkle with fresh parsley and enjoy!
Spicy Keto Tuna Melt Cups
Recipe from hiptoketo.com
yield: 7 SERVINGS
prep time: 10 MINUTES
cook time: 25 MINUTES
total time: 35 MINUTES
Spicy cheese and tuna are melted together in a muffin tin for a delicious keto meal idea.
INGREDIENTS
6 oz. can of tuna, drained
2 large eggs
1/4 cup sour cream
1/4 cup real mayonnaise
1/4 cup onion, chopped
3/4 cup sharp cheddar cheese, shredded
3/4 cup pepper jack cheese, shredded
1 tablespoon fresh parsley, chopped
dash of salt & pepper
20 slices jalapenos from a jar
DIRECTIONS
Preheat oven to 350 degrees and grease a muffin tin.
In a mixing bowl combine tuna, eggs, sour cream, mayo, onions, cheese, parsley, salt, and pepper.
Fill muffin pan with mixture, evenly. Top each muffin with a few slices of jalapenos. (This batch made 7 muffins)
Bake at 350 degrees for 25 minutes. Serve warm.