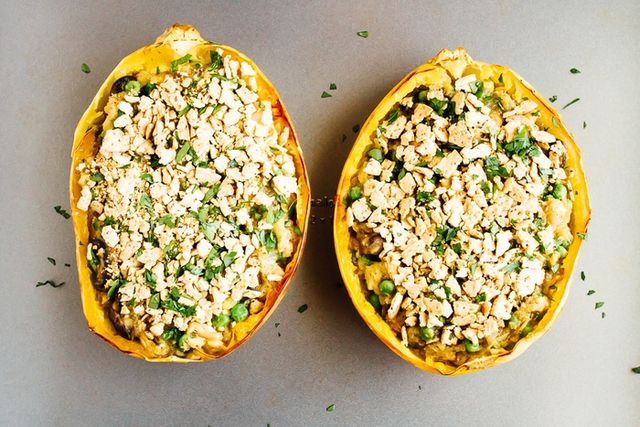 A healthy spin on a comfort food classic, these spaghetti squash tuna noodle casserole boats are filled with loads of creamy goodness and ample protein. Gluten-free, dairy-free, low-carb and paleo!
Ingredients
2 6 oz. cans Albacore Tuna, drained
1 tablespoon olive oil
1 15 oz can coconut milk (regular or lite)
1 large yellow onion, chopped
2 cloves garlic, minced
2 cups sliced baby bella mushrooms
1 1/2 teaspoon pepper
1 1/2 teaspoon sea salt
1 medium-large spaghetti squash
1 cup frozen peas, thawed
1/4 teaspoon cayenne pepper
pinch of nutmeg
1/2 cup crushed sprouted seed or almond flour crackers
parsley, for garnish
by Brittany Mullins
Instructions
Heat oven to 350°. Chop spaghetti squash in half length wise, scoop out seeds with a spoon. Coat the inside of each half with a tiny bit of olive oil. Place on a baking sheet, cut side down and bake for about 40-50 minutes or until you can easily pierce a fork through the squash.
While squash is baking, prepare your sauce by adding oil to a medium pot on medium-high heat. Add onion, garlic, salt, pepper, cayenne and nutmeg. Cook, stirring often, for about 10 minutes or until onion and garlic are aromatic and translucent.
Add mushrooms and cook until onions are browning a bit and mushrooms are soft.
Add in coconut milk and cook on medium high until sauce has reduced in half, to the thickness of gravy. Be sure to stir the sauce often so that it doesn't stick. This should take about 15-20 minutes. Once reduced, remove sauce from heat, add in thawed frozen peas and tuna. Stir to combine.
By this time your squash should be fully cooked, or close to it. Remove squash from oven and let cool for 5-10 minutes before scraping the inside of the squash with a fork to remove the spaghetti-like strands.
The cooked spaghetti squash may seem liquidy. If so, place in a fine-mesh colander to remove access liquid. Press strands down with a fork or spatula to really press it all out.
Add drained spaghetti squash strands into the sauce mixture and toss to combine.
Spoon spaghetti squash tuna mixture into the bottom of each squash half. Top each with 1/4 cup cracker crumbs.
Bump oven temp to 375° and bake for 10 minutes, or until casserole is heated through and crackers are a little golden.
Remove from oven, sprinkle with fresh parsley and enjoy!